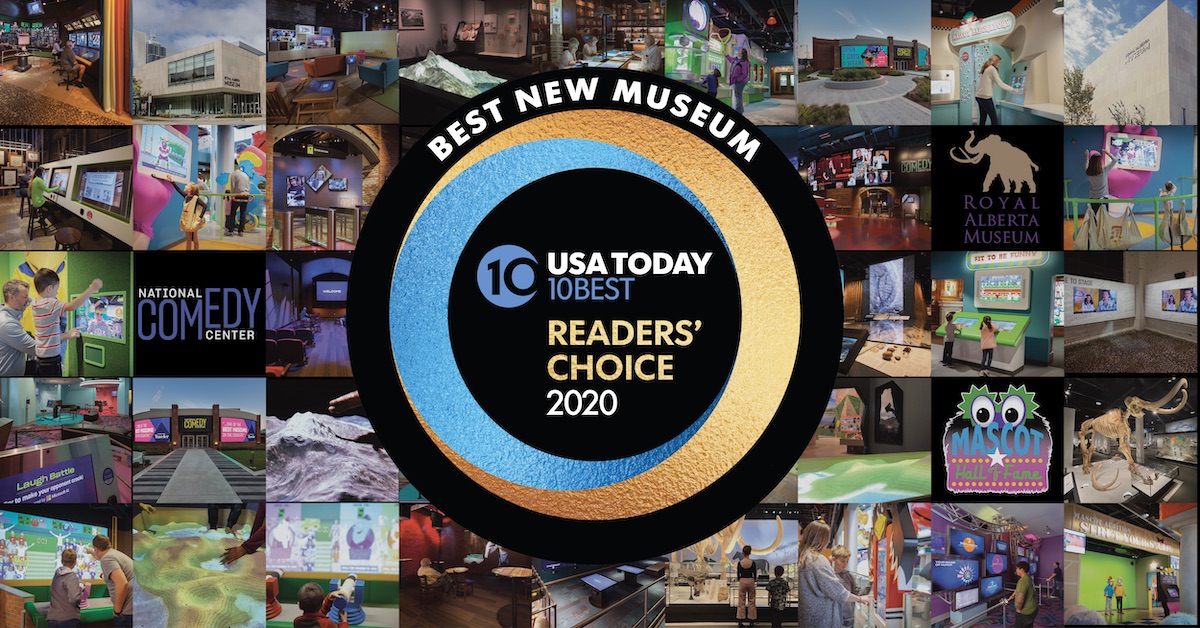 Electrosonic Delivers 3 of 2020's Top 10 Museums
Each year USA Today conducts its popular 10 Best Reader's Choice Travel awards covering a broad number of categories. The process starts with a panel of experts who partner with 10Best editors to pick the initial nominees. However, the top 10 winners are ultimately determined by popular vote with readers casting votes over four weeks.
According to USA Today, "Each year brings a slew of new collections (or new facilities for old collections) for museum lovers. These museums, ranging from avant-garde art galleries to colorful children's museums, represent the best openings of the past two years."
Three museums Electrosonic contributed to walked away with honors this year including the (#6) Mascot Hall of Fame, (#9) The Royal Alberta Museum as well as the reader's top choice, the (#1 new museum of the year), the National Comedy Center.
National Comedy Center #1
The National Comedy Center is the country's official cultural institution dedicated to presenting the story of comedy and preserving its heritage. Built in the hometown of comedy legend Lucille Ball, the National Comedy Center is intently focused on making guests the stars of the show, regardless of their age group.
The organizers quickly recognized that audiovisual would play a big part. Touchscreens and fun interactive exhibits play an essential in engaging the growing digital generation. Most of all it had to be sustainable because the organizers wanted to keep visitors coming back. And, it had to be fresh and easily updated - a museum with its finger on the pulse of comedy.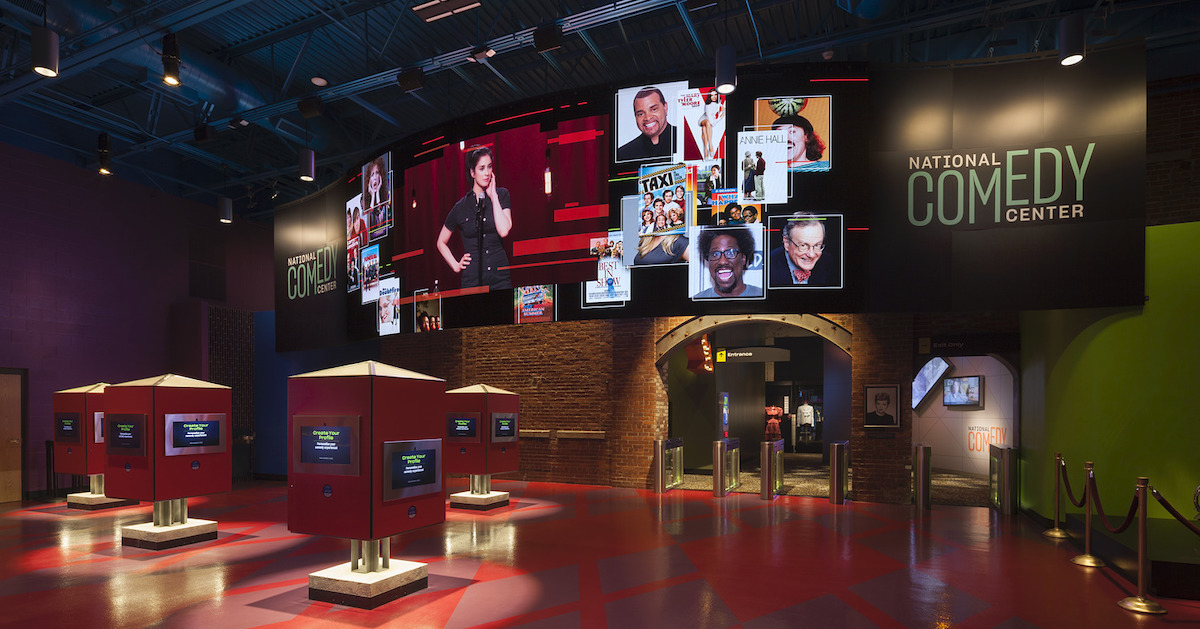 The immersive experience begins the moment you walk into the building. An interactive RFID bracelet is given to every guest, with a personalized comedy profile based on the information filled out. The result? Every visit to the Center is customized, unique to the preferences of the individual. And as the person moves through the exhibit experiences, the profile of exactly what they find amusing and enjoyable is refined.
Armed with that learning technology, visitors can take in more than 50 immersive exhibits. Guests can actually step into the shoes of their favorite comedians, try their hand at comedy writing or performing, along with educational games and competitions. For example, one the highlights of the Center is "Comedy Karaoke."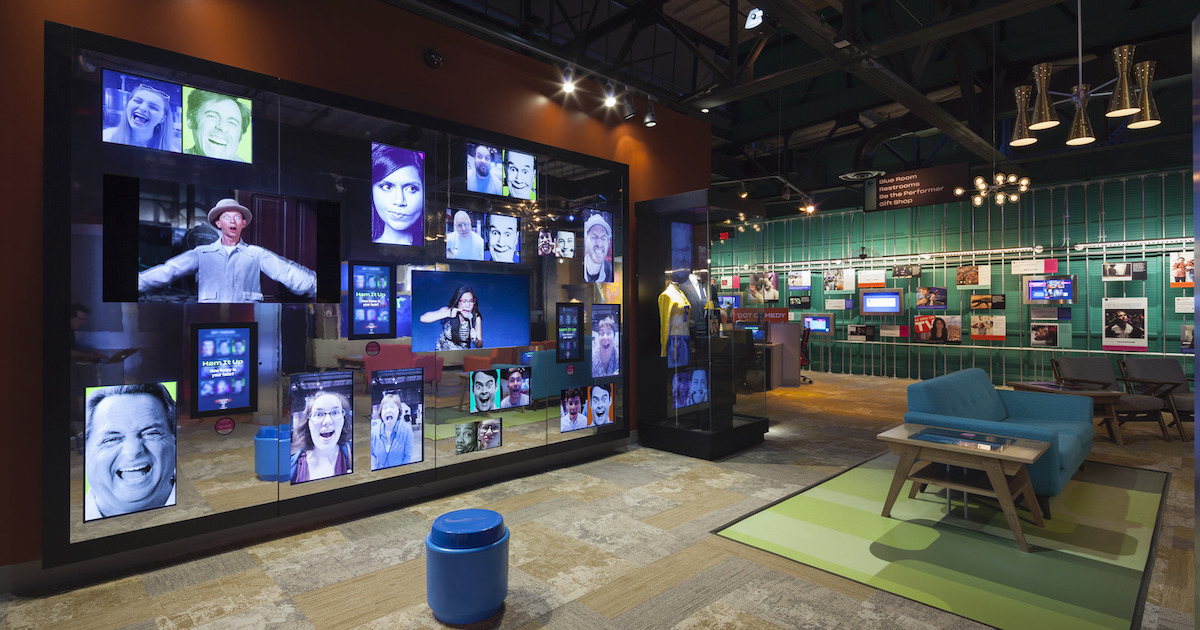 Visitors can go up on an actual stage and do a comedy routine, complete with a teleprompter. It can be a famous bit from one of their favorite comedians or a personalized one based on their comedy profile. Friends and family can laugh and cheer along, and capture video of the performance on their smartphones.
One exhibit that leverages breakthrough Microsoft artificial intelligence technology, "Laugh Battle" is an interactive game that allows visitors to face-off and see who can make their opponent crack a smile while utilizing facial recognition software to auto-detect the laugh and score the point. 'Laugh Battle' won an honorable mention for Onsite Digital Experience at the 2019 Media & Technology MUSE Awards.
Another example of experiential technology is the George Carlin exhibit. This is in the 18 years of age and older section of the Center, and features Carlin's famous "seven words you can't say on television" routine. As a guest enters the exhibit, each of these seven words are projected at them in a directional blast, depending on their exact location in the room. At the same time, a digital image is captured of their reaction. These pictures of hilarious surprise have become extremely popular with guests.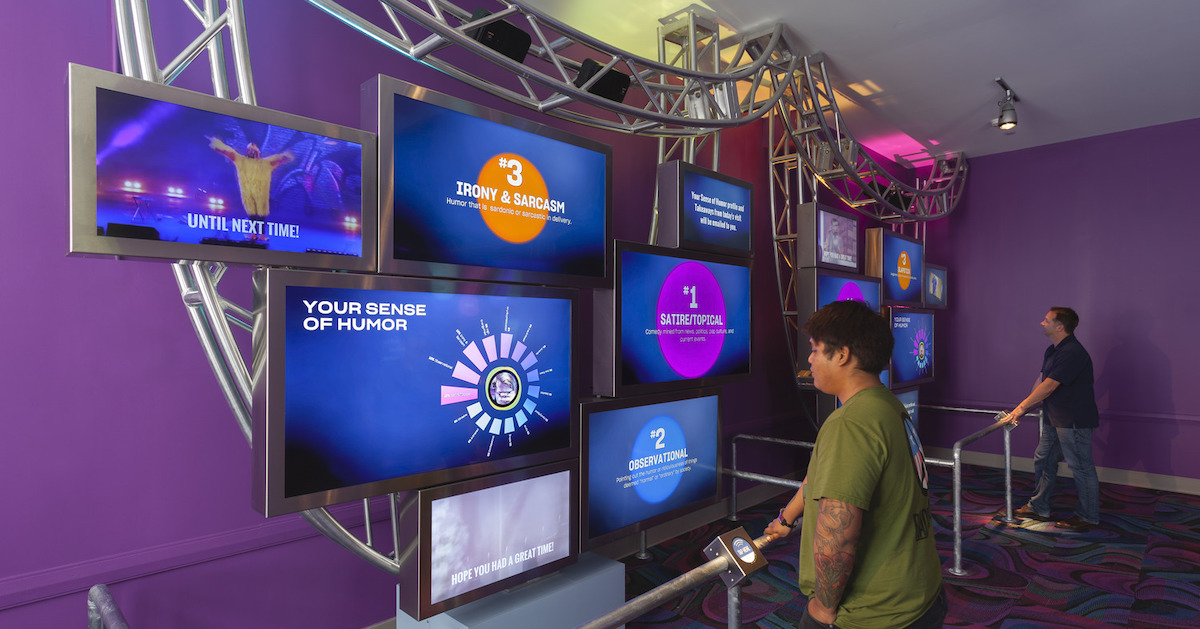 "The National Comedy Center gives guests the opportunity to explore comedy in depth as an art form, says National Comedy Center's Guest Experience Researcher and Developer Brandon Caruso. "Technology acts as the gateway to an immersive experience that takes into account each guest's own sense of humor. We've found that guests are spending way longer than we anticipated here - they come and stay all day! And they represent all generations too."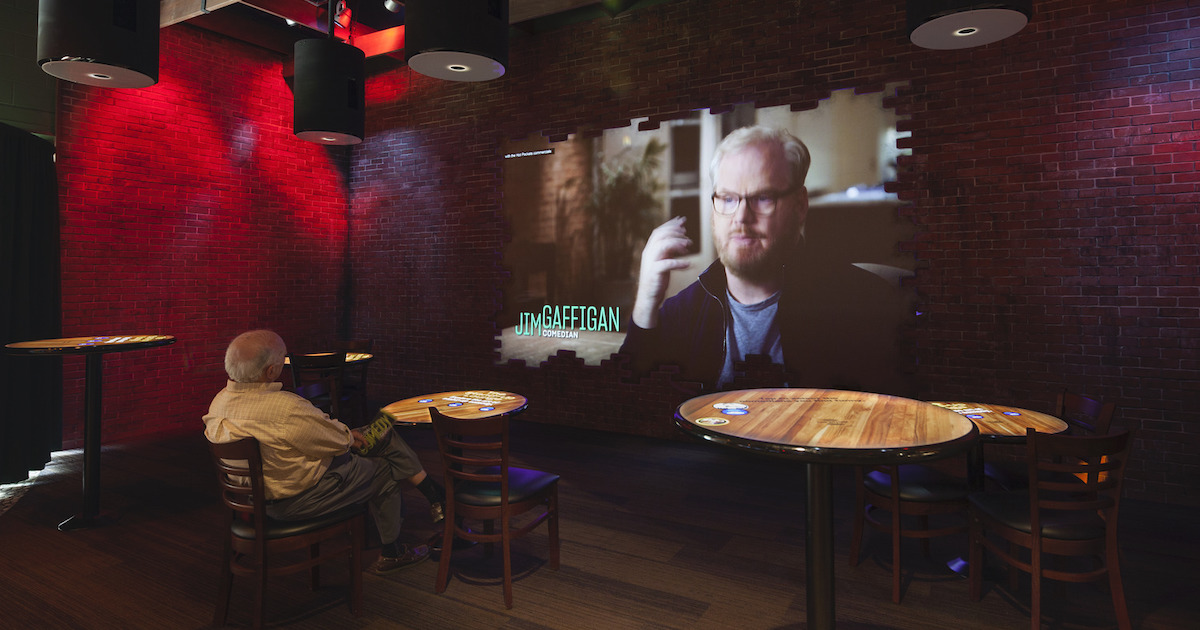 Since opening in August 2018, it has attracted record numbers of visitors from all over — and many of them are comedians themselves. It has won a coveted museum industry award for engaging audiences with innovative digital programs and gained the prestige of 'national' designation from Congress in 2019. Last summer the National Comedy Center was named by TIME magazine as one of the "World's Greatest Places" and People magazine selected it as one of its "100 Reasons to Love America."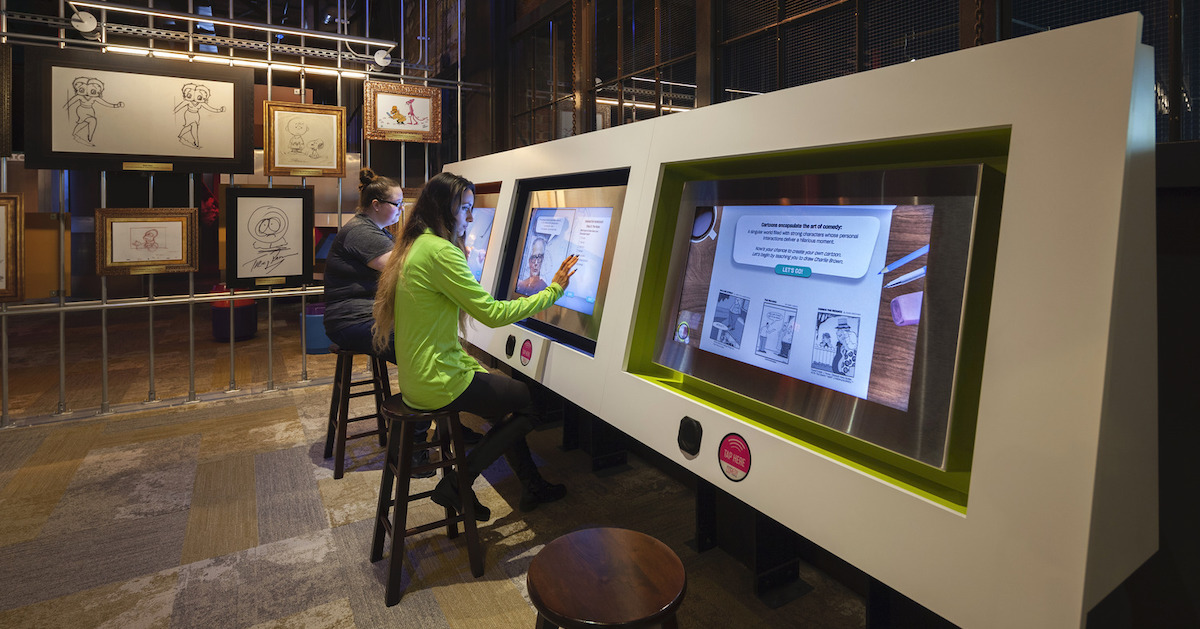 In delivering this museum, Electrosonic partnered with designer Jack Rouse Associates, 767 who provided system design and specifications, Cortina Productions who did all of the media and Adirondack Studios who served as the exhibit fabricator.
Mascot Hall of Fame #6
Also designed by world class design firm Jack Rouse Associates, the Mascot Hall of Fame is an interactive museum that combines mascot-themed exhibits with engaging activities that feature educational content based around science, technology, engineering, the arts and mathematics. Visitors can use interactive facilities to design their own mascots or learn about the history of mascots in sport. To widen interest among mascot professionals, the organizers plan induction weekends and boot camps. Truly, a multimedia experience.
The unusual nature of the museum meant it had to go beyond average. It had to be different — surprise visitors with the extraordinary and engage them. The museum also maintains year-round interest by integrating technology, physical displays, regular new inductions to refresh the displays and themed events. Storytelling, technology and interaction have turned an unusual concept into an unlikely success story.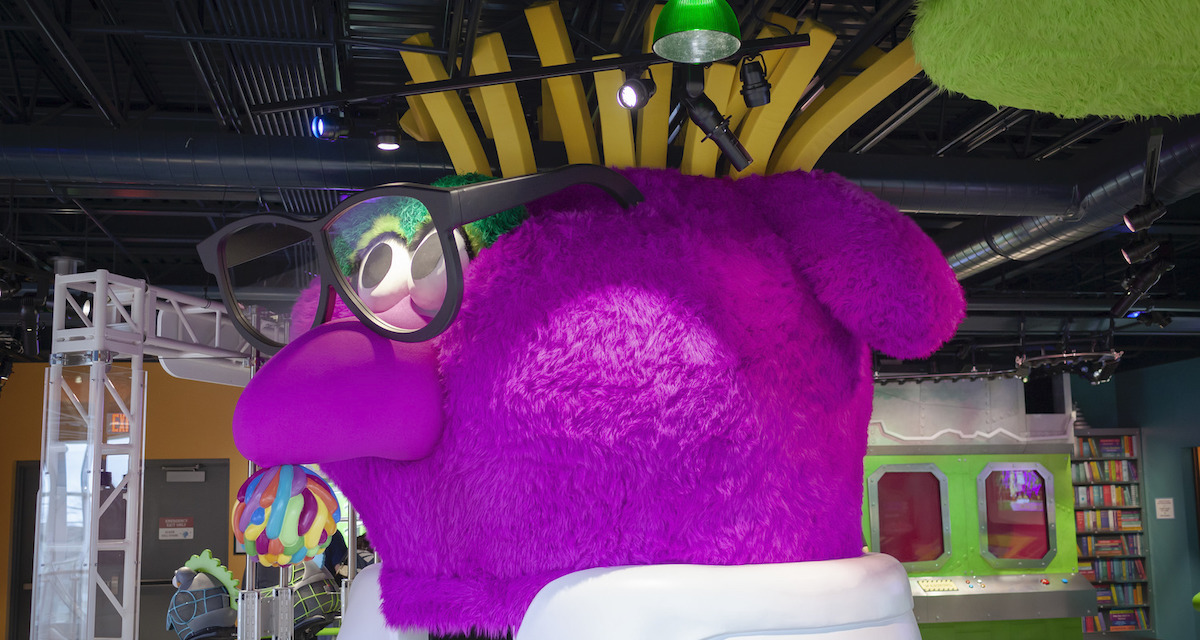 Electrosonic served as the AV integrator for this project. There is a mixture of gesture and touch interactivity, projection, lots of sound and gaming. IT is all about interactivity and being with the mascots. It is all about having fun. One of the popular exhibits enables guests to tap into their own creativity. Using an interactive display, guests can combine a variety of mascot parts and accessories to create a brand-new mascot. With over a billion possible combinations, your mascot will truly be one of a kind!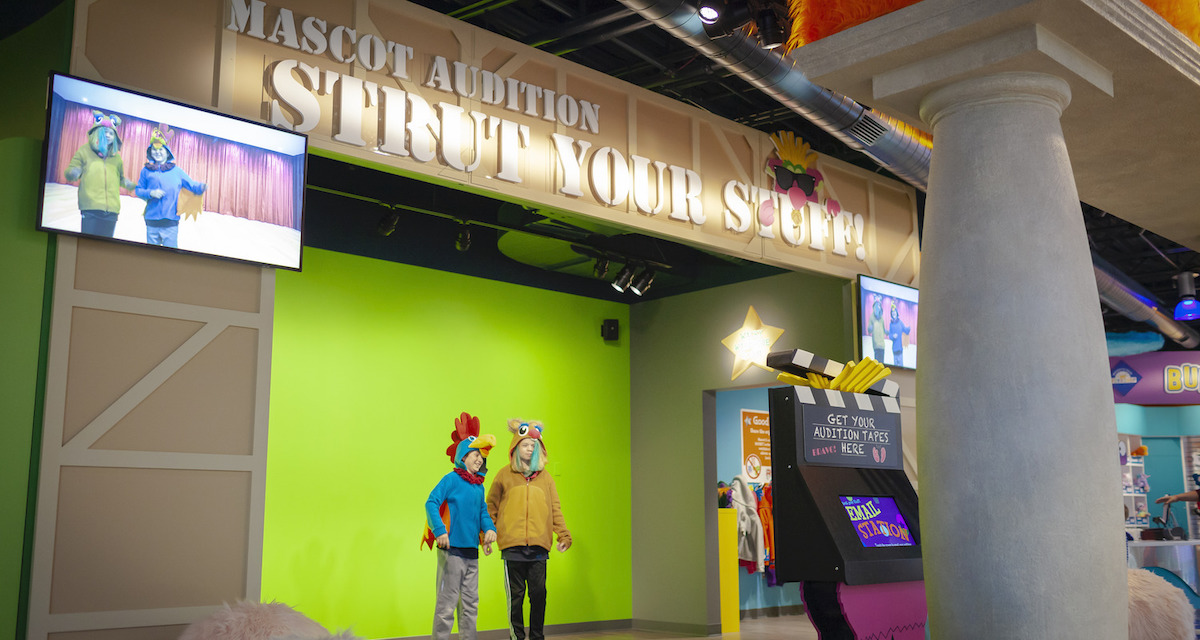 There is also a digital mascot knowledge quiz where guests can compete against their friends to see who can match the most mascots to their hometown! Again, using interactive displays, guests can drag mascots onto their proper location on a U.S. map.
In addition to working with designer Jack Rouse Associates, Northern Light Productions handled the media creation and Chicago Scenic completed the exhibit fabrication.
Royal Alberta Museum #9
Sporting an array of interactive exhibits and projection, the Royal Alberta Museum (RAM) is the largest museum in western Canada and one of the top museums in the country. Located in the Arts District in downtown Edmonton, the museum collects, preserves, researches, interprets and exhibits objects and specimens related to the heritage of Alberta's people and natural environment.
The museum's expansive permanent galleries feature engaging exhibits complemented by internationally touring features. The museum "takes you on a journey through millions of years of Alberta's remarkable stories. From our expansive Natural and Human History halls chronicling the history of Alberta's people, animals and landscapes, to a live Bug Gallery, and Children's Gallery for little visitors with big imaginations, a-ha moments await around every corner!"
Electrosonic played an instrumental role in creating over 20 interactive exhibits, and multiple theaters dedicated to creating a truly educational environment. There is a lot of gesture-based interactivity for learning, video walls and a sounding room. Electrosonic handled all of the audio and visual systems and the AV system control interface.
Electrosonic was hired by the Provincial Government at the recommendation of Kubik in Toronto. Cortina Productions handled all of the media requirements, and Kubik served as the exhibit fabricator.
Alexander Hann, Communications Manager, understands the challenges that clients face when they are making decisions about technology. He uses his extensive experience of communicating complex concepts to write about the latest developments in technology in a way that clearly explains benefits for business and technical decision-makers.
Signup for the weekly news to your inbox each week.