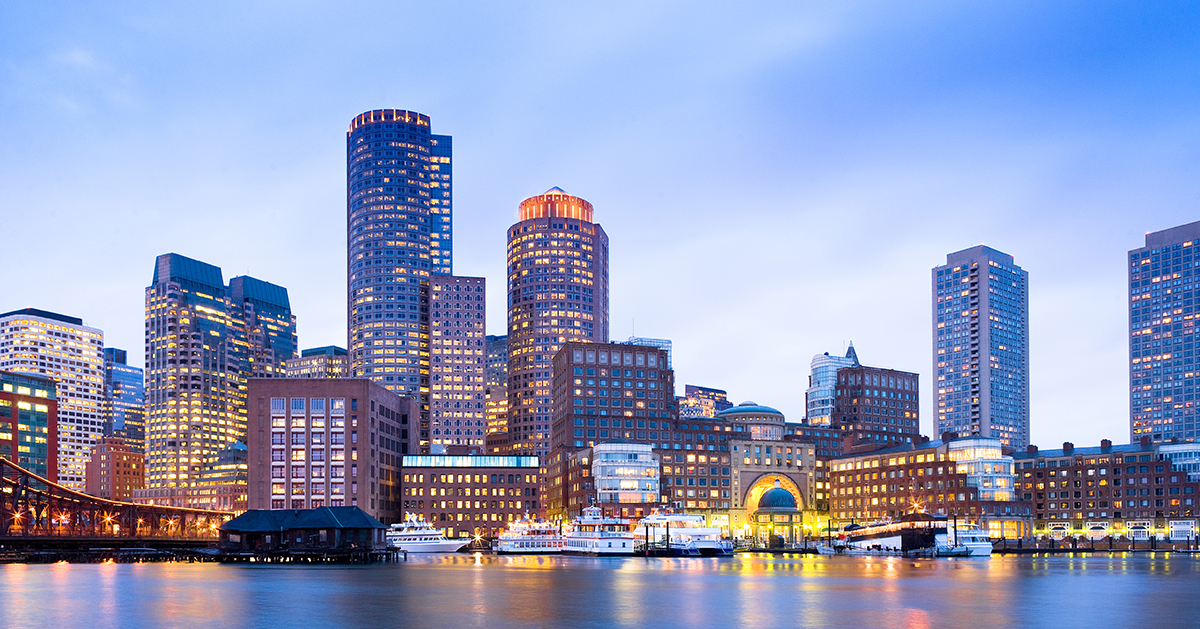 AAM Returns to Boston—Electrosonic Has a World of Possibilities for You to Explore
The 2022 AAM Annual Meeting and MuseumExpo is almost here. The team at Electrosonic is excited to exhibit in Boston with our largest booth ever. The event will be live and in-person for the first time since 2019, and we've got lots to share with the museum community. MuseumExpo is the best place to connect with museum professionals and demonstrate new capabilities and ideas in creating immersive spaces and weaving in experiential design in any exhibit.
Here's a preview of what you can expect from us at this year's event.
Welcoming You to an Innovative Space
Our 600 square feet of exhibit space, booth number 1017, is right up front. It's the first one past the entrance doors in Exhibit Hall A in the convention center. With such a large floorplan, we're creating a space that's more than a standard booth—it's a place for collaboration and discovery. You'll be able to check out the newest AV technology, learn about our latest museum projects, interact with our experts and more!
Since We Last Saw You: New Projects to Share
In the years since the last in-person event, we've been growing, evolving and improving. Our team has gotten bigger, allowing us to bring new innovations to our customers' attention, provide more support and care to each project, and explore new technologies and how to apply them to the museum environment.
To give you a sense of what fun and innovative spaces we've helped create in the museum industry, check out these project profiles.
Academy Museum of Motion Pictures
Finally, Hollywood has a museum that's worthy of its star power. The Academy Museum of Motion Pictures opened in 2021, celebrating the arts, sciences and artists of moviemaking. It encompasses 300,000 square feet, including 75 installations. We played a role in several of these immersive media exhibits, including a 54-foot-long floor-to-ceiling projected wall and various audio and sound effect components. The Smart Monkey ISAAC platform controls these systems, as well.
Watch the video below to explore this exciting space.
Summit One Vanderbilt
New York City's newest attraction, Summit One Vanderbilt is an observation deck experience with many stories to tell about the city that never sleeps. Guests walk through the historic Grand Central Terminal, can visit "The Hall of Light" with dramatic audio and lighting and become enchanted at "Transcendence," a multi-sensory room with infinity mirrors. Our team collaborated with the creative experts to deliver programming and engineering expertise to this exciting experience.
Social Lab at the Museum of Tolerance
We've worked with the Museum of Tolerance for over 30 years, and we were proud to be involved in this latest project. This museum is all about interaction and influencing visitors to understand contemporary prejudices and social issues.
The new Social Lab was an upgrade of the existing one, with the centerpiece the "Point of View," a four-sided glass cube. Rear projection solutions sit within the cube and present parallel scenarios reflecting different perspectives on challenging topics. Another key element in the revamp is a series of large touchscreens that invite interaction. We collaborated with partners to support the AV design, equipment specifications and integration, all while acting as project managers.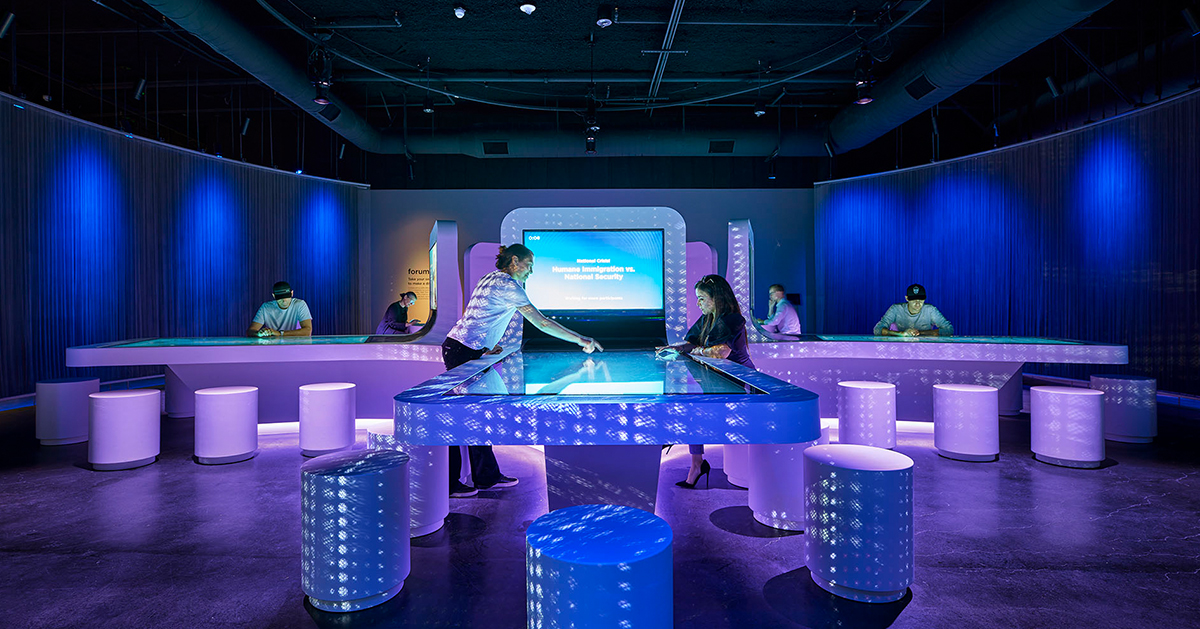 Skydeck Experience at Willis Tower
This unique project provides visitors a look back at Chicago's origins. The Skydeck Experience at Willis Tower begins with an interactive museum on the lower level. The echoes of Chicago's beginnings are presented through animation, motion graphics, lighting effects, video, special effects and more. Visitors then ride up to the 103rd floor to see "The Ledge," a glass balcony projecting from the building.
It's a breathtaking experience and an excellent example of modern, immersive storytelling. The video below offers a preview.
Revealed: The Hunt for Bin Laden at the National September 11th Memorial & Museum
This next project, "Revealed," takes history to a new level, allowing visitors to understand the 10-year search for Osama Bin Laden. Our role was to work with the creative experts to design and integrate the AV and control elements of the exhibit. These include a 40-feet long panoramic wall, a 5-projector blend on a curved wall and projection mapping representing the final attack.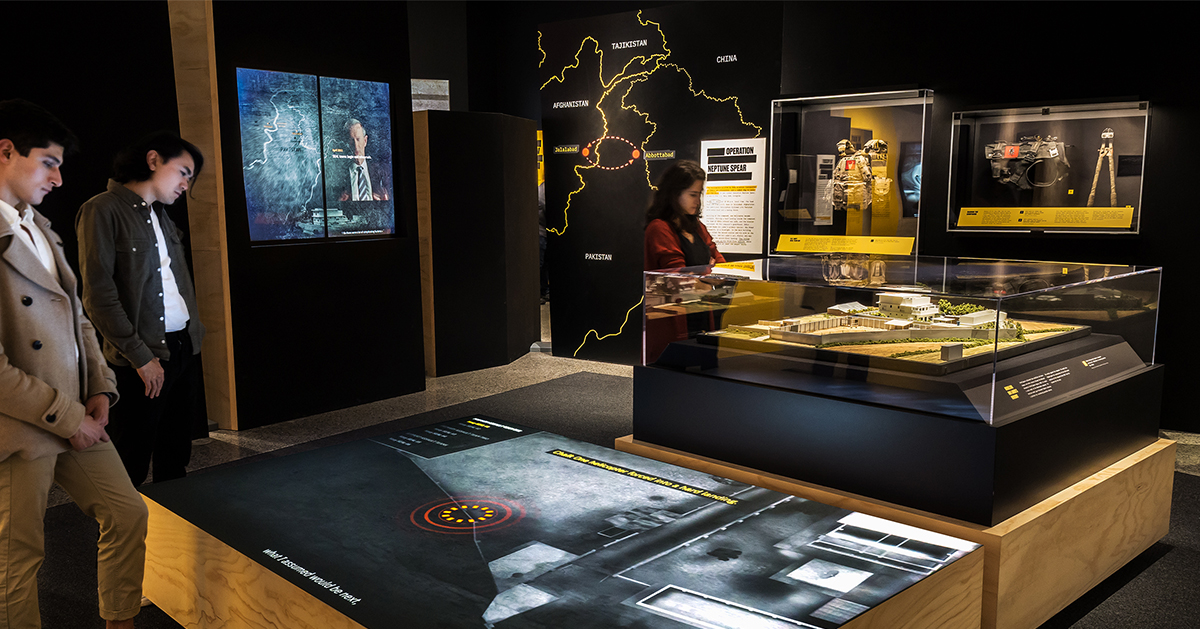 National Museum of Racing and Hall of Fame
The National Museum of Racing has a new Hall of Fame, which features a 360-degree cinematic experience. The multimedia experience takes visitors behind the scenes of the exciting stories around horse racing. Multiple 4K projections and retractable screens create this thrilling space. We were responsible for the technical direction, engineering and AV design. Follow the path of these experience by watching the video below.
Recognition and Accolades for Museum Projects
In addition to these exhibits, we've also been honored for several projects. Our work on the Mobility Pavilion at EXPO 2020 Dubai won an AV Award.
We also earned the Best Museum Project of the Year at the Commercial Integrator Integration Awards for the National Museum of Racing. We also took home two additional Commercial Integrator Awards in 2021 and were involved with two projects that received THEA Awards. The International Spy Museum was also shortlisted for Best Individualized Experience at the AV Experience Awards.
Join Us to Discuss What's Next in Museum Experiential Design
We've designed an area to meet with clients and partners to discuss challenges, inspirations and more. We want to help the field use technology to its advantage, developing one-of-a-kind experiences for visitors.
What's unique about setting up an in-booth session is that we'll be offering charette meetings. Our technology experts will be available to meet with museum designers, operators and other stakeholders to discuss overcoming current challenges, generate ideas, visualize solutions and ponder the vision of the museum experience. We hold these regularly with clients and find them to be a successful option when starting projects and planning exhibits.
These sessions are your chance to get professional insights and recommendations from our experiential technology advisors. Learn how to integrate technology into exhibits to foster education, entertainment and excitement.
You can book one of these with our team during the event. It's a complimentary brainstorming session where our experts will present the latest technology trends in the industry and what's possible because of them.
Alexander Hann, Communications Manager, understands the challenges that clients face when they are making decisions about technology. He uses his extensive experience of communicating complex concepts to write about the latest developments in technology in a way that clearly explains benefits for business and technical decision-makers.
Signup for the weekly news to your inbox each week.