Technology Magic in Themed Entertainment
There is a reason why the leading themed entertainment continues to draw large crowds and enjoy healthy growth numbers. Theme parks understand – and ultimately deliver – on the consumer's growing desire for immersive experiences. Looking forward, this trend is on pace to intensify. This is where a park's ability to capitalize on storytelling opportunities can serve as a critical differentiator.
Memorable Experiences through Personalization
In a connected world where people are far too often glued to their devices, theme park guests are looking for memorable out-of-home group experiences that allow them to escape from their always-on realities. This usually means being able to create an atmosphere where the guests can feel like they – along with their friends and family – are part of the story. Whether the story revolves around the adventures of a favorite superhero or submersion into a mystical new world, nothing accomplishes this goal like the ability to personalize the experience. For example, feeling like you are taking on an active role to help your favorite superhero save the world.
The same technology that theme parks are helping guests escape can play a meaningful support role. For instance, the ability to leverage smartphones (and their associated data) provides parks with an opportunity to personalize the experience. A prime example – being able to reward someone after their 50th time on a specific ride or more importantly eliminate pre-canned experiences. The use of strong IP and high-quality gaming engines makes interactive and totally immersive experiences a reality. For instance, building dynamic attractions that maintain a common thread differently, yet utilize various randomly picked chapters. Although the story remains similar, it provides the guest with a new feel – encouraging them to come back repeatedly to continue the experience.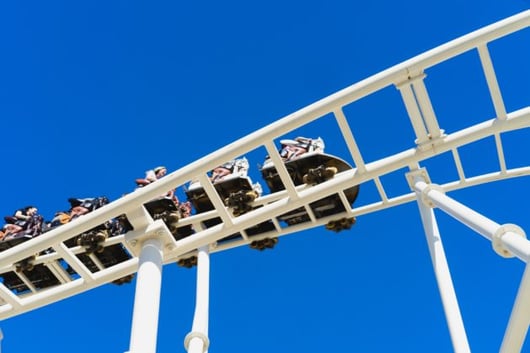 Furthermore, parks are recognizing that truly memorable experiences start with the elimination of guest headaches. The most notable being the long lines. As such, augmentation with mobile devices enables digital queues eliminating the need to stand in line for an hour plus for each attraction. Both Disney and Universal have implemented their own versions of queue-less attractions. Waiting in line understandably tries patience and eventually pulls away from the desired experience. Utilizing a digital queue not only improves the experience by eliminated wait time but it also creates additional revenue opportunities while guests spend money at concession stands, gift shops, and restaurants. Overall guest experience also improves with queue-less attractions.
Not only will night shows continue, they will become more elaborate and immersive. These also serve as a significant revenue driver for people to have dinner, dessert and buy warm clothes because they get cold. The use of projector mapping will continue to play a key role in transforming the space while daily customization will increase for unique daily shows. For example, Disney projects guest photos on the castle as part of their "Once Upon a Time" show – again immersing the guest into the story.
Although Virtual Reality (VR) continues to be a buzz worth solution, there is a growing trend to reduce the use of visors, goggles or other virtual reality tools. They are often a maintenance nightmare that reduces capacity and remove guests from real-time group interaction. It was a great hook rather than spending millions on a new attraction, but when patrons wear goggles, it's not possible to see friends or family having fun as well – hampering the group experience that people desire.
Gamification Glory
Gamification is an opportunity to provide an additional immersive layer into the fold especially for season pass holders. Gamification can combine complex games, puzzles and maybe direct guests through an escape room type experience or offer a unique ride as a reward through the use of the guest's own mobile phone.
From behind the scenes, big data and AI fuel the growth of gamification opportunities. There's a solid value proposition to leverage big data to make decisions and ultimately improve the guest experience. Of course, there needs to be a balance to avoid the big brother experience.
Theme Technology Trends
Technology is constantly improving. However, guests have no desire to "see" the tools that are creating their experience. As such, there is a growing need to augment technology improvements in a way that remains invisible or natural to the guest. For instance, the use of new high resolution, direct view LED displays essentially create "digital wallpaper" resulting in ultra-realistic digital caves or rooms that will transport guests to different worlds.
Lastly, it's important to recognize the power of audio to deliver incredible acoustical experiences. Beautiful pictures quickly lose effectiveness without correlated sound. As more parks leverage complex sound movement capability to interact with guests, it further improves the ability to personalize the experience.
Regardless of the advances in technology, memorable experience in themed entertainment can only happen with strong stories and compelling environments. As technology evolves, new experiences we haven't even imagined yet will be possible, but technology is just a tool. When all these components — story, space, and technology — seamlessly converge, the magic happens.
.
Maurizio Capuzzo, Electrosonic's Chief Marketing Officer, fuses the science of data with the art of visual and verbal communication to explain how technology adds value and helps foster innovation. Maurizio writes from a wealth of experience, holding leadership roles in global technology companies as well as possessing a deep understanding of how technology contributes to business growth.
Signup for weekly Perspectives of the technologists who bring projects to life.