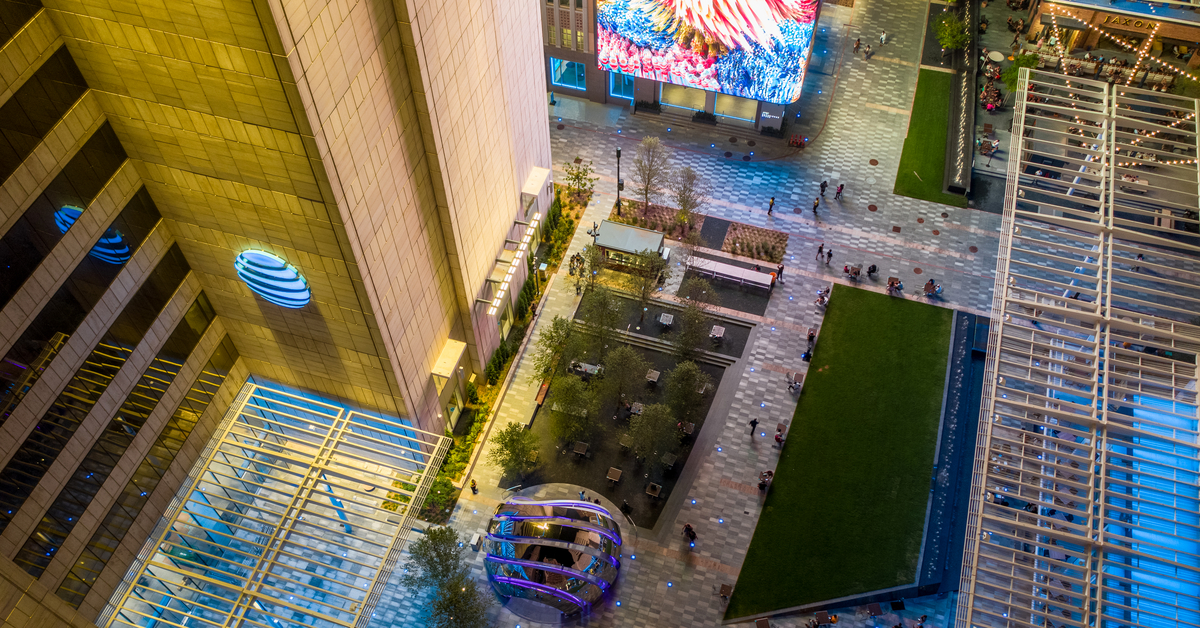 How urban technology enhances placemaking initiatives
Urban spaces have traditionally been divided along specific lines – residential areas, business districts, retail centers or recreational areas. But now those lines are blurring as employment patterns change and people once again feel comfortable with in-person experiences. In their place, we are seeing a greater focus on community spaces and mixed-use developments that offer an inclusive welcome and amenities to workers, communities, residents and visitors alike.
Behind the change are moves to regenerate under-used spaces, a greater desire for shared experiences and a recognition of the importance and impact of unique digital placemaking.
A recent example of that emerging pattern is the AT&T Discovery District in downtown Dallas, Texas. The area has transformed the city's central business district by reimagining the campus at AT&T's headquarters as a lively open and inclusive community destination that combines an accessible plaza with large-scale digital content and interactive activations where technology, culture and art come together.
This article explains the drivers behind the focus on community spaces, how urban technology empowers communities, and how to consider an inclusive environment while benefitting property owners and the community.
What's driving change?
One of the major factors behind the transformation is the changing pattern of work post-Covid. With more employees working from home or choosing hybrid working, demand for office space is reduced in many metropolitan areas. That frees up space for other uses and encourages businesses to consider how they can add value to under-utilized resources.
Leveraging these spaces and transforming them into flexible, multi-purpose areas can also reduce the financial burden of facilities and bring commercial gain for organizations.
Another primary driver is the desire to return to shared experiences – a legacy of the pandemic. Harvard's Making Caring Common project highlighted the growing problem of loneliness in America, which makes it essential to encourage in-person experiences and strengthen social relationships in all institutions. As the Gensler Design Forecast 2023 points out, the pandemic reminded people how valuable human interaction is and how critical spaces are in enriching lives.

Future of community design
Digital placemaking is an important element of a community space because it empowers communities, enhances the visitor's experience of the place and meets the expectations of a generation increasingly familiar with the technology. Urban technology must be appropriate for the size and nature of the space but is likely to feature ambient lighting and audio, displays using LED technologies, creative kiosks, interactive displays, and smartphone apps.
The AT&T Discovery District created and delivered in support of Gensler, Moment Factory, SNA Displays and Smart Monkeys, shows the potential of digital placemaking with three areas of interconnected technologies - The Plaza, The AT&T Headquarters Lobby and food and beverage areas.
The Plaza is a large area of lawn where hundreds of speakers are integrated into surrounding buildings to create an immersive sonic soundscape and a 'Media Wall' 104 feet high which features advanced technology combing digital art and media, attracting visitors to the heart of the district as a place to meet and hang out.
Also within the Plaza is 'The Globe', a 30-foot interactive rotating sculpture where a system of sensors detects visitors' movement and changes audio and lighting in response.
Bordering The Plaza is the AT&T Headquarters Lobby, a highly visual experiential space transformed by eight LED columns, a sizeable three-sided video wall, dynamic audio, and a diffused LED lighting veil ceiling. On the other side of The Plaza are food and beverage areas that feature audio, lighting and digital signage solutions that create unique vendor and guest experiences, inside and out.
Creating positive community impact
Community spaces can range from a small, underutilized area in a museum to shared facilities in a corporate building that can be used to enhance business areas in harmony and alongside public spaces.
For example, Okta, an identity and access management company, offers part of the meeting space in their New York briefing center to local non-profits or small businesses for events.
Museums and visitor centers are also benefiting by opening their spaces up for events and celebrations that strengthen their links with the community.
In addition, retail and mixed-use developments allocate part of their campus to performance spaces or large-scale digital installations that make the area a popular destination. And on a larger scale, developments like the AT&T Discovery District are turning central business districts and corporate headquarters into community spaces and social destinations.
Inclusivity at its heart
Inclusivity should also be at the heart of any community space, and urban technology also plays a key role here. The spaces should be designed for universal access. With the right technology, every guest or visitor can enjoy an equitable experience in different ways according to their needs, for example, by presenting information through audio and visual media or using proximity technology rather than touch to trigger content.
Creating community or public spaces can help property owners make productive use of buildings or areas that are under-utilized for commercial advantage while forging stronger relationships with the local community. For community groups, these spaces provide an opportunity for local residents and visitors to connect with like-minded people, with technology playing a pivotal role in enabling an artful and well-integrated experience of place.

Erika is Electrosonic's link with our strategic partners throughout their design process and projects. When partners need technological information or expertise to reach their goals, Erika acts as an expert professional resource by collaborating with them. She adds value by bringing partners of various disciplines together or empowering them to consider appropriate technologies by working as part of their project team. Erika believes in the importance of integrating space and technology to create a seamless, memorable experience. So, she harnesses her background in architecture to develop concepts with architects or collaborate with project managers to determine how technology will support the meaning and behavior of a space.
Signup for weekly Perspectives of the technologists who bring projects to life.