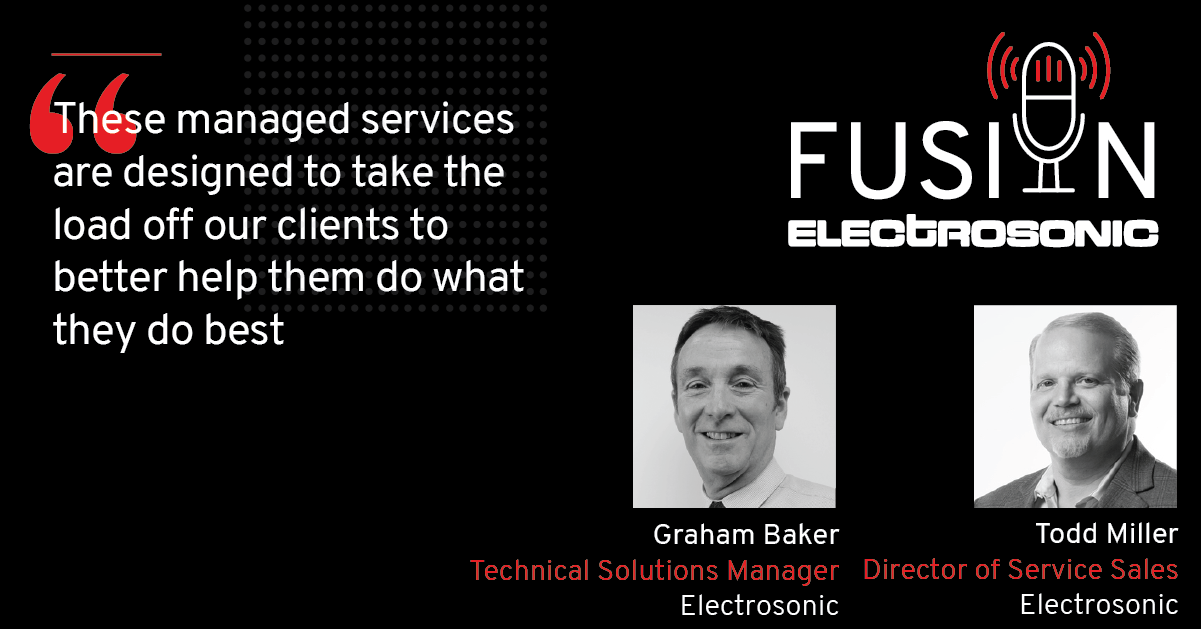 How Are Electrosonic's Managed Services Crafted For You? (New Podcast)
It's not enough to simply throw technology and audiovisual solutions at your operation and expect efficiency to result. Effective managed services promote uptime, help teams collaborate more effectively, and provide thorough data collection and analysis that keeps AV solutions at peak performance as often as possible.
And Electrosonic is uniquely equipped to serve as an end-to-end managed services provider.
Not only is Electrosonic one of the world's premier names in AV solution design, installation and integration, but that knowledge and expertise has allowed us to craft managed services that cut right to the heart of what your operation needs.
On a recent episode of Fusion, the Electrosonic podcast, Electrosonic Technical Solutions Manager Graham Baker and Director of Service Sales Todd Miller outlined Vista, Panorama and Affinity, Electrosonic's three-headed offering of managed services perfectly crafted to be the industry's best.
"It really comes out of our capacity to support a client all the way through the lifecycle of the system," Baker said. "Originally, we were a product manufacturer, and we would provide all the way through the product lifecycle. … Now, we apply the same route to our solutions."

Vista – Powerful Workspace Collaboration Solutions
Vista is Electrosonic's holistic approach to enabling the kinds of powerful workspace collaboration that are driving the modern workplace and today's most productive operations.
In particular, Vista focuses on bringing innovative video conferencing solutions to the forefront, offering a cloud-based solution that makes scheduled and ad-hoc meetings possible from any location or device and at any time, eliminating the complexity of supporting traditional video conferencing systems for organizational IT teams.
"The Vista solutions play a major role in helping us provide the services clients need not just in straight video conferencing, but in some of the other areas where maybe we weren't necessarily playing in," Baker said. "Things like webinars and live events. How do we leverage a cloud solution to provide those services?"
Vista supports both the migration of existing solutions to the cloud and the provision of new cloud-based systems, offering a path forward for an organization at any point in the lifecycle of transitioning to the cloud.
Further, Vista facilitates full management of an organization's new, cloud-based solution, ensuring that the cutting-edge and innovative strategy for collaboration doesn't fall short due to lapses in management or support.
The utilization of Vista results in a number of measurable benefits for operations, including a reduced workload for on-site IT teams, more robust security through video encryption, management of firewall-traversal policies and more, and, most importantly, more accessible and flexible collaboration.

Panorama – Thorough Workspace Management Services
At its core, Panorama is Electrosonic's method of providing a suite of proactive maintenance and support services designed to make your AV solutions available as often as possible – and avoid the chaotic rush to put out fires caused by unexpected downtime.
"Panorama sets out to provide 100% uptime, if possible," Baker said. "We aim to solve the problem before the client's actually affected."
Panorama is all about supporting the transition to "smart systems" that can be maintained and managed remotely with advanced digital tools, leveraging remote monitoring, break-fix, control and configuration of IP-enable systems to provide unprecedented performance.
Electrosonic not only has the knowledge to provide this key support, but also to ensure employees are effectively empowered to make use of your AV solutions in the most productive ways possible.
"We have the remote monitoring that does the self-healing and self-analysis, so it's really transparent to the client," Miller said. In addition, Miller said, QR codes placed on equipment can provide relevant resources to self-resolve the issue or a video link to connect to an Electrosonic subject matter expert.
By engaging in remote monitoring and leveraging robust strategies to identify faults as quickly as possible, Panorama leads to faster issue resolution, a further reduced IT burden, and comprehensive management information that can be used to identify areas for improvement in system performance, facilities usage and more.

Affinity – Unmatched Workspace Support Services
There's no greater detriment to your cutting-edge AV solution than downtime.
If you're solution simply isn't working, it's impossible for it to provide the benefits it's designed to bring – and managing your solutions' operation and uptime is an extremely time and resource-intensive process for on-site IT teams. Those resources are better spent elsewhere.
"If we think about the background of how systems are being used today and just look at the growth in the way technology is used in modern-day business, the load that's required to manage that (is incredible)," Baker said.
"When you couple that with the fact that maybe they aren't that familiar with the technology that's there, it makes it incredibly difficult for those guys to be able to support the client and the technology that they have in there alongside their regular day job. It takes them away from what they should be doing."
That's why Affinity works to relieve this pressure and maintain uptime by offering two core services.
First, a diverse range of managed, on-site services can be performed by expert engineers who work full-time at your workplace, ensuring you always have access to critical support when you need it.
Second, Affinity offers a path toward crafting a proactive service and maintenance care program, outlining a way to care for your AV solutions via contract or pay-as-you-go.
"Affinity includes the 'man-in-the-van' type approach, where we can provide an engineer to go to a site and fix a problem when it happens," Baker said. "We also, under the Affinity banner, provide managed services where we'll have our engineers working as part of the client's team."
Either way, Affinity ensures your operation gets a customized and scalable enterprise-grade solution that puts the right experts with the right skills in place to best serve you, reduces the burden on your IT professionals, improves overall availability and uptime, and lowers the cost of your solutions' maintenance.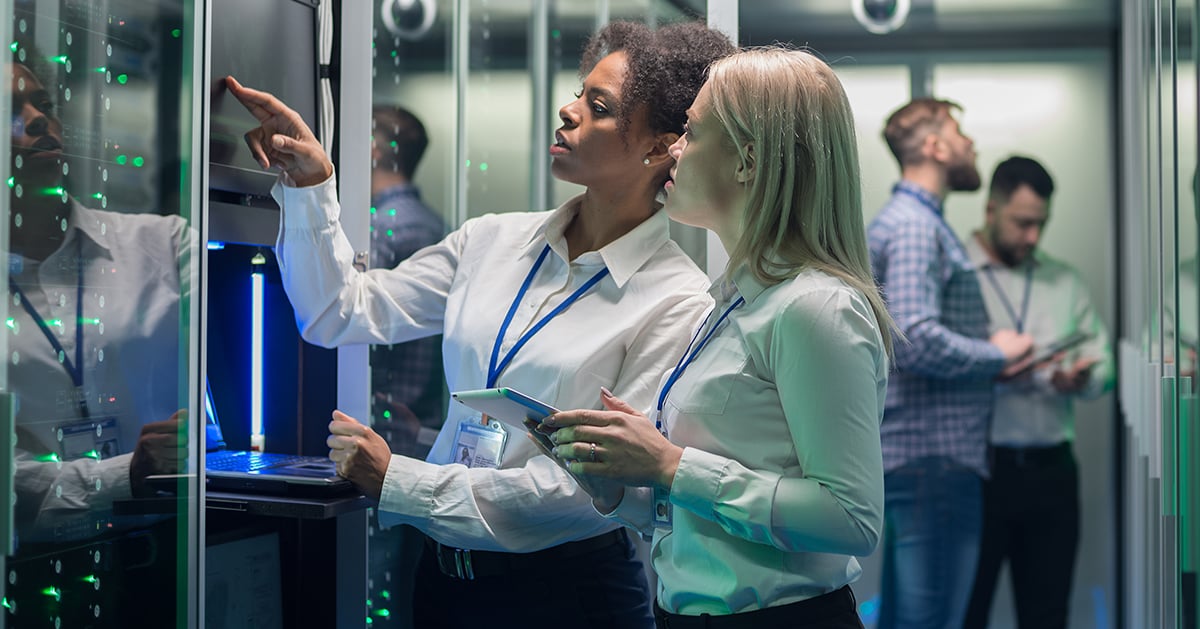 Choosing the Correct Managed Services Provider
Electrosonic's managed services stand ready to bring new efficiency to your operation, reduce the burden on your IT professionals and free them up to serve the company in more beneficial capacities, and provide unmatched peace of mind that your systems will work as intended as often as possible.
Like any critical aspect of your operation, managed services and their providers deserve careful attention. To view Electrosonic's checklist for choosing the right managed service provider, click here.
To learn more about how Electrosonic can elevated your AV solutions with truly end-to-end managed services, contact us today.
Alexander Hann, Communications Specialist, understands the challenges that clients face when they are making decisions about technology. He uses his extensive experience of communicating complex concepts to write about the latest developments in technology in a way that clearly explains benefits for business and technical decision-makers.
Signup for weekly Perspectives of the technologists who bring projects to life.