How to design the best interactive display experience
Interactive displays are all about enhancing the experience. As a result, the applications for this technology are diverse. That breadth of options is sometimes not in the purview of designers, architects, and other stakeholders. To bring more attention to these options you need to understand the pros and cons of each and examples of how they're used.
When starting a new interactive display project, the first step is defining the story you want to tell, that story decision will influence the technology decision. That's the foundation for all great experiences. Those needs look different when considering the audience. It could be employees, shoppers, visitors, residents, or guests. Who interacts in the space will shape what you want to achieve and the technology you use.
The Benefits of Interactive Displays
From the practical to the engaging, interactive displays offer many benefits, including:
Providing self-service options for shoppers, enhancing the customer experience while also reducing the strain on staff.

Telling more immersive stories that engage beyond the static.

Enhancing collaboration for employees.

Delivering ways to guide visitors with wayfinding displays.

Promoting greater

equality and inclusivity

for visitors by offering a more tactile environment.
To achieve these, you have options, including interactive digital signage, wayfinding systems, tables and video walls.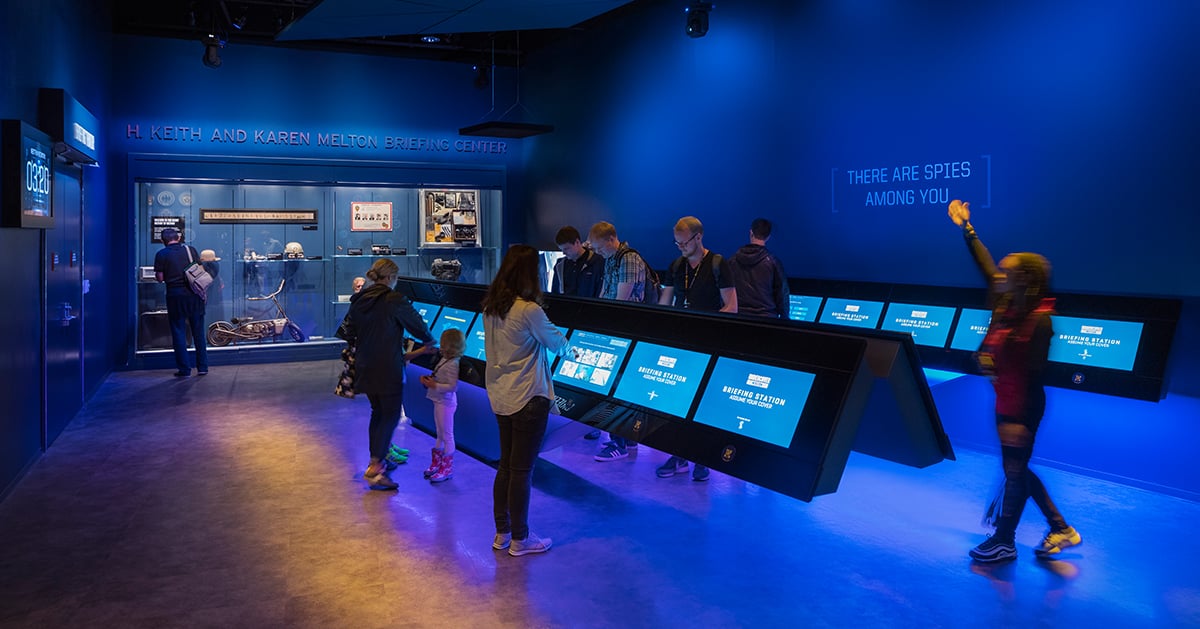 Interactive Digital Signage: Enable Users to Get Information and Complete Tasks
Digital signage has been a mainstay in restaurants, shopping centers, airports, museums and corporate offices for many years. Since then, it's become interactive, which engages those who encounter it.
It has many use cases, such as information delivery, check-ins, self-service ordering and automating customer-facing functions. In addition to these mainstays of digital signage, it can also support an immersive installation. Farm Wisconsin Discovery Center uses digital screens and other AV technology to create a farm work simulation.
Some additional examples of include the Hyosung Experience Center. It incorporates digital signage touchscreens to tell the brand's story. Interactive digital signage also contributes to the environment at the National World War I Museum and Memorial. Interactive displays and simulations provide visitors the vantage of looking at personal stories from the time.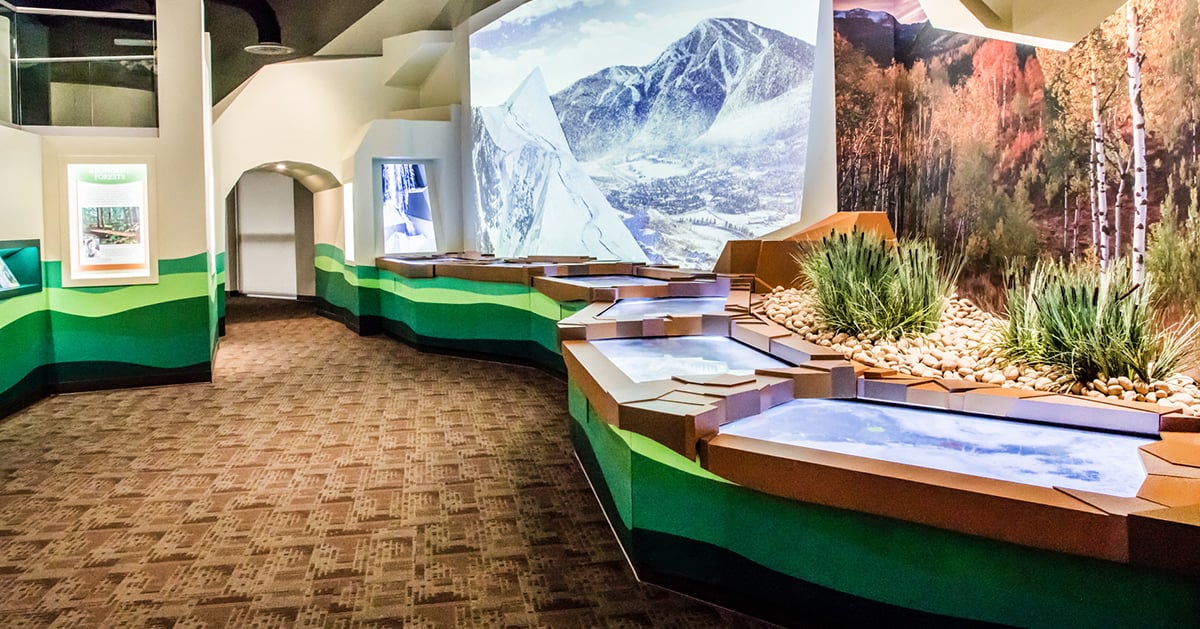 Interactive Wayfinding Systems: Let Visitors Explore
Helping guests find their way in your building is critical to their experience. By installing interactive wayfinding systems, they can easily map out their journey. It can indicate where attractions or stores are, along with important messaging about restrooms and amenities.
Airports can be tricky to navigate, which is why interactive wayfinding is so powerful. The installation at the Tom Bradley International Terminal at LAX welcomes travelers depending on their experience, whether that be arriving or departing. Wayfinding also gets personalized at the Grove Google Experience. Real-time data enables custom messaging and displays fun facts for visitors.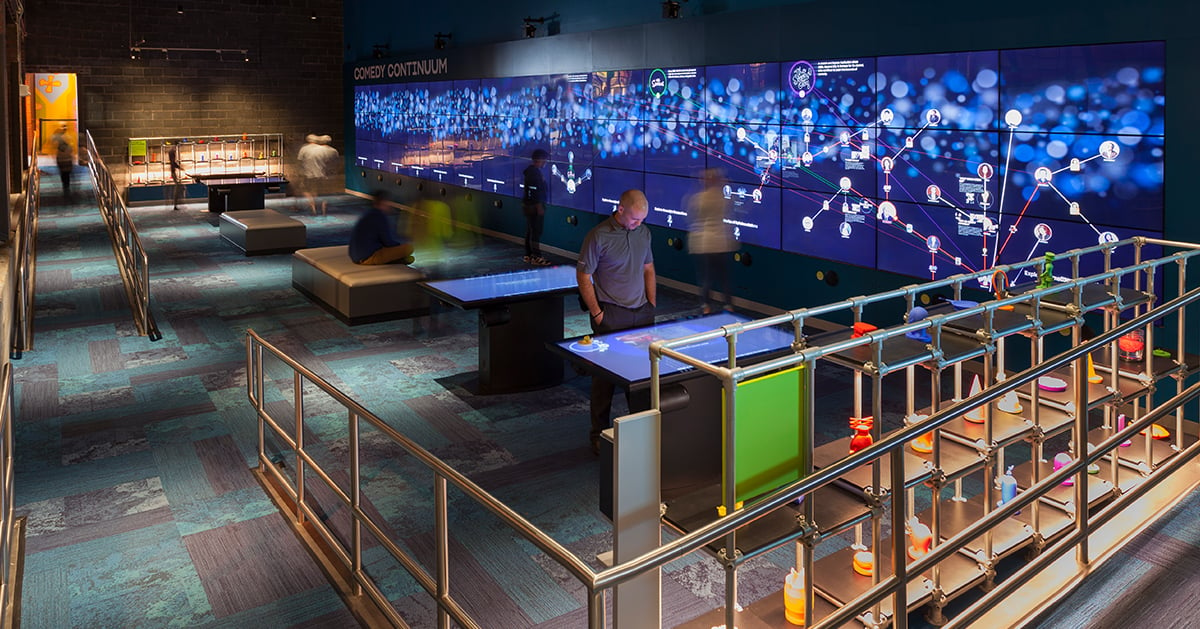 Interactive Tables: Inspire Visitors to Interact
An interactive table can be a great centerpiece in museums, visitor centers and attractions. They complement the world around them and entice guests to learn more. They also enable objection recognition by using RFID technology. To engage with an interactive table, people can use touch, gestures, or even smartphones.
The advantage of interactive tables is that they often allow multiple people to engage with content simultaneously. This often increases the time they spend in these spaces and delivers a unique experience. For example, The Battle of Bannockburn Visitor Centre features a War Table powered by touchscreen technology. Users can compete and control the content.
Another engaging example of interactive tables are those in the Future Energy Chicago simulation game. Visitors compete across five interactive stations to redesign cities for the future.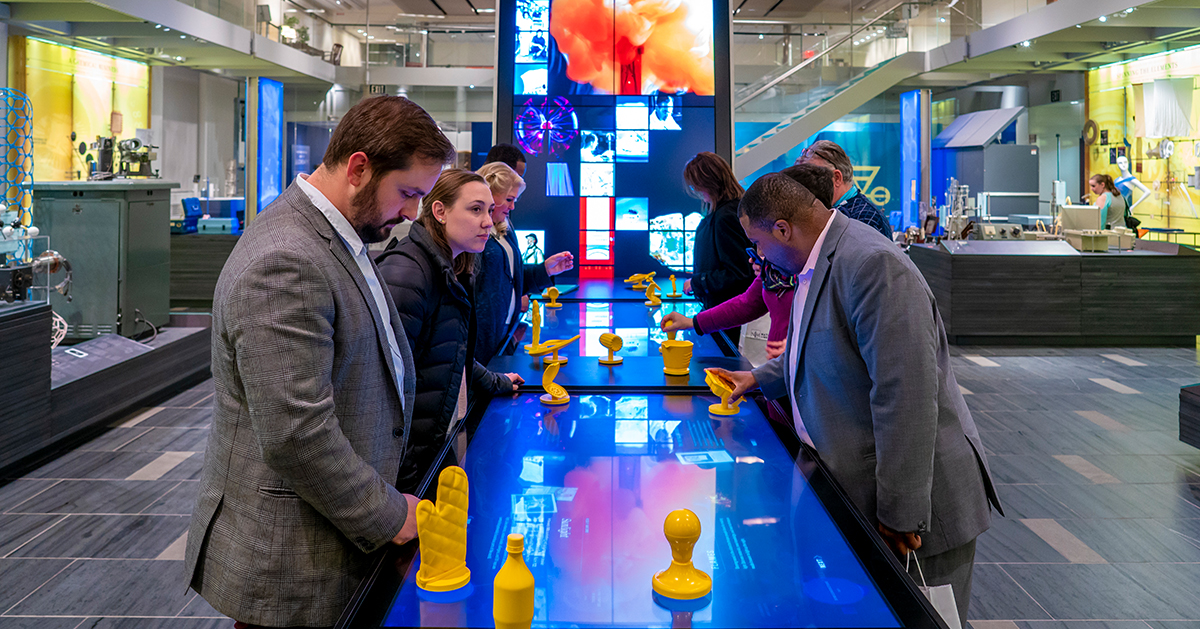 Interactive Video Walls: Allow People to Become Part of the Experience
An interactive video wall combines multiple screens in a variety of configurations. They are large format and can display multiple layers of dynamic multimedia content. Those that arrive in these environments can activate the video walls either by touch or gesture.
Here are some examples of how spaces deploy interactive video walls:
Transforming static timelines into discovery zones: The

National Comedy Center

includes a 60 x 9-foot interactive LED video wall. Visitors can make links between comics and activate footage.
Technology that delivers impactful stories: The

Cox Discovery Center

embeds a video wall into architectural columns. They seamlessly become part of the space. Users can touch them to learn about the company's values and history.
Visitors become creators: Sightseeing goes to a new level at the

Skydeck Experience at Willis Tower

. Integrated LED columns allow guests to post thoughts on a social media column and create drawings and messages.
Discover 7 leading types of interactive displays that can enhance your space.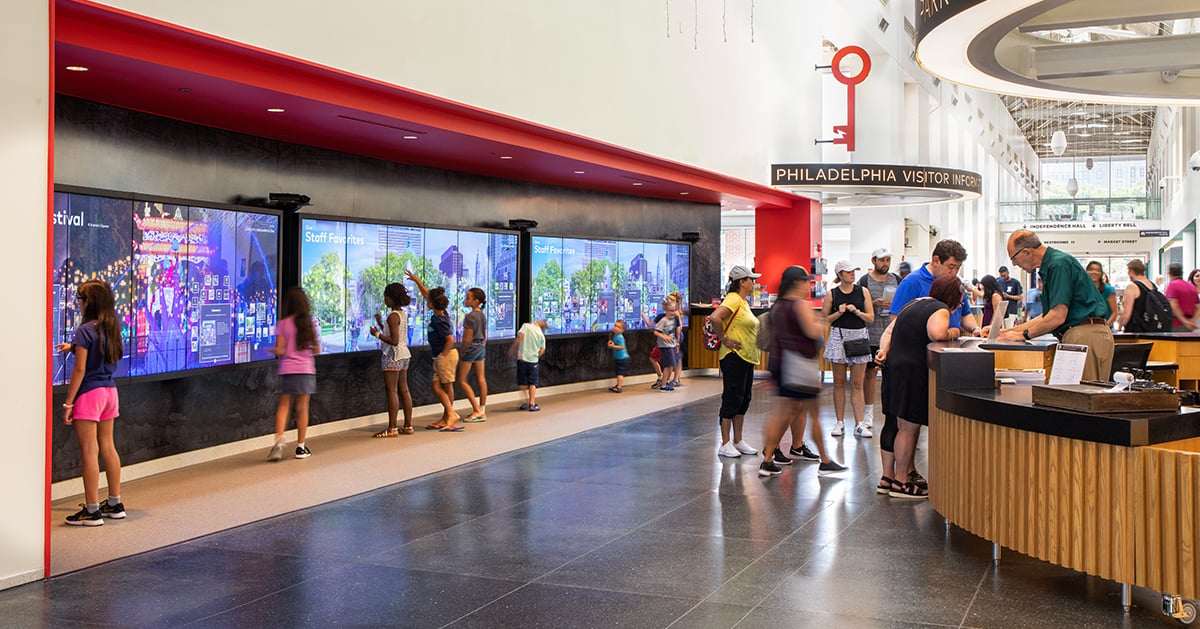 How the Interactive Landscape is Evolving
The installments noted above are all possible because of innovation in the field. Interactive displays are continuing to evolve. The drivers behind it are innovative technology and broader integration with these technologies. Additionally, developments in networked control systems continue to arise.
Some of the emerging technologies that are integral to interactive displays include:
Infrared (IR) touchscreen: Uses LED diodes and sensors to enable gesture recognition.

Projected Capacitive Touchscreens (PCAP): Consists of many indium tin oxide (ITO) conductors to improve touch sensitivity and multi-touch support.

Frustrated Total Internal Reflection (FTIR): Captures user pressure against an acrylic screen to deliver content to the screen.
They help amplify the consumer experience, as well as the overall performance. These components also enable touchless interaction with either gestures or with smartphones. That's a key change in the interactive landscape, prompted by a focus on public health. Interactive was once touch-centric. By moving to touchless, you preserve the experience while also ensuring the comfort of users. It makes the entire installation more accessible for everyone. You can find more information on the touchless trend when you download our new guide.
Another improvement in technology is using RFID for more personalized experiences. RFID-equipped displays can read other elements to collect data. From that data, they can customize what the person sees. The International Spy Museum illustrates this perfectly. The interactive displays scan visitors' lanyards to present their personal spy success.
The technology evolution also supports safety. That can include wayfinding displays that integrate with real-time information. Additionally, security, surveillance and access controls are usable with interactive displays. You can incorporate alarms, surveillance, access controls and intrusion detection systems. This can be critical if a threat or emergency warrants vacating the space.
The Design Building Blocks of Interactive Displays: Design, Integration, Training and Support
With so many technology options in interactive displays, you'll want to engage an expert in the field from the start. By ensuring involvement from the start with an AV adviser, you'll incorporate their feedback and recommendations from the beginning. Waiting further down the road can cause challenges that could impact budgets and timelines.
Alexander Hann, Communications Specialist, understands the challenges that clients face when they are making decisions about technology. He uses his extensive experience of communicating complex concepts to write about the latest developments in technology in a way that clearly explains benefits for business and technical decision-makers.
Signup for weekly Perspectives of the technologists who bring projects to life.