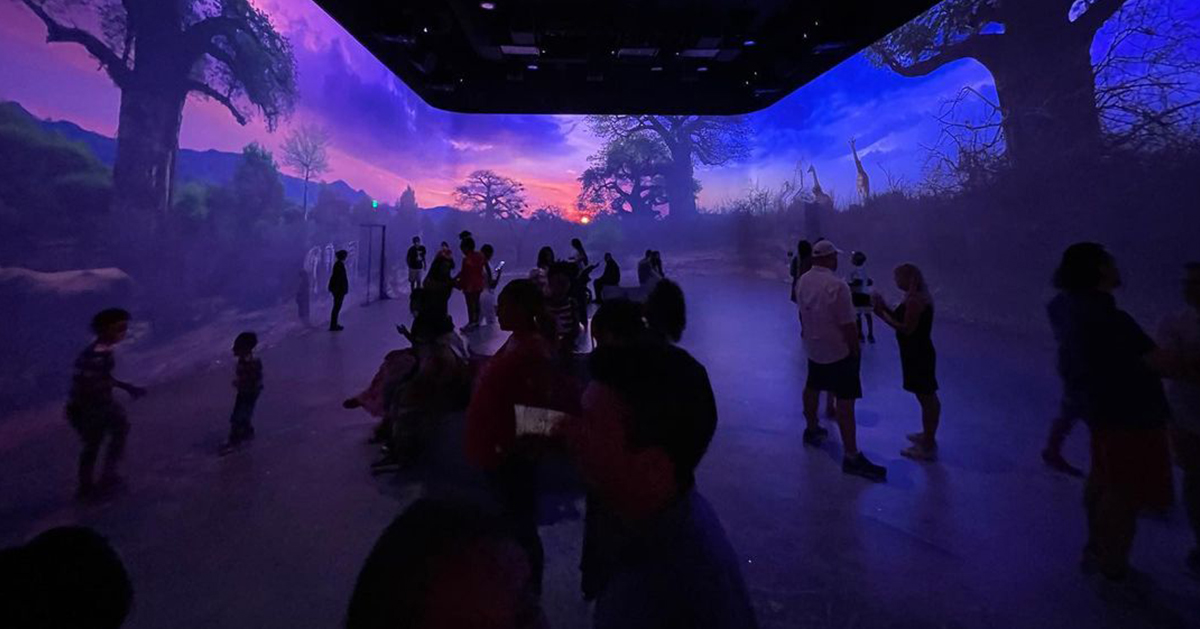 SMART Attractions and Sustainability: A Brilliant Pair
Attractions are becoming bigger and bolder. The rush of adrenaline is simply not enough to engage visitors. They have higher expectations for experiences, and much of this is driven by technology. An attraction has to offer more than what someone can experience at home through a virtual headset, and that's led to the embrace of experiential technology design. However, the adoption of this technology requires significant investment, especially regarding the cost on attraction's environmental footprint.
In our first post in this series on sustainability, we talked about the power of AI. Continuing that discussion is determining how attractions can be more sustainable when they're SMART.
We'll also be touching on points made in our recent webinar, Creating Sustainable Solutions for a Greener Future.
What Is a SMART Attraction?
The term "SMART" is a familiar one. We have smartphones, smart assistants, smart devices, smart homes and more. The SMART market is growing every day with new innovation to improve and optimize just about anything.
The same principles driving the SMART market apply to attractions, as well. Just as a commercial building can be SMART in its operations, attractions have that same opportunity. Through meters, sensors and monitors, they can leverage technology to optimize so many aspects of a space, from energy to HVAC systems to water use and consumption.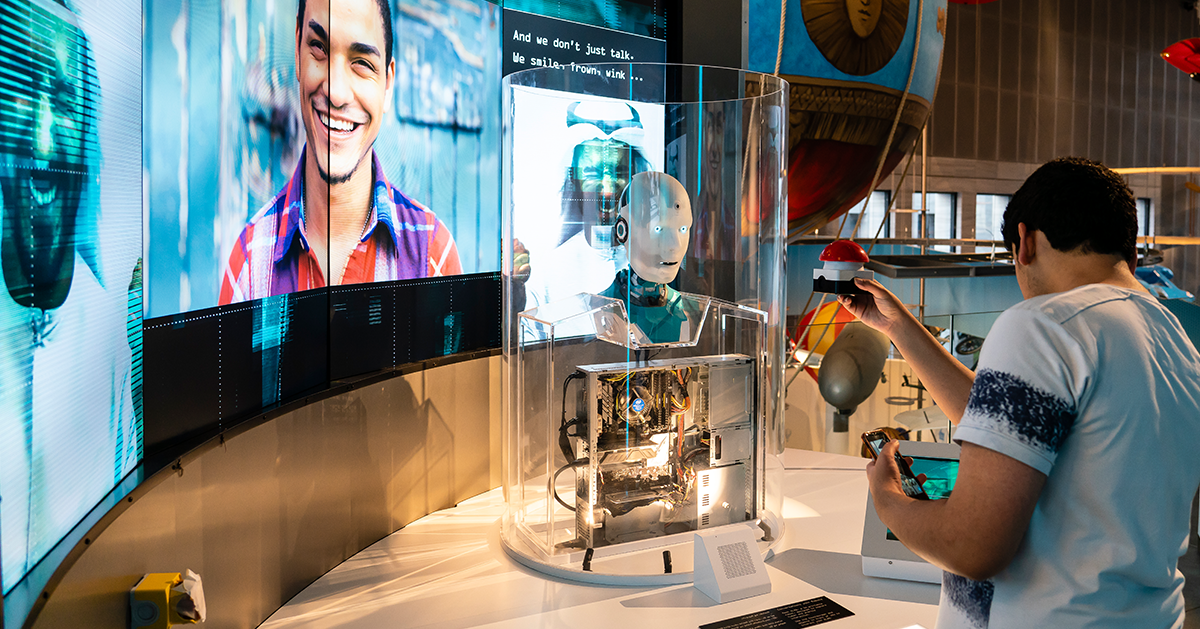 Why Embrace SMART Attractions?
With the pursuit to build bigger and better attractions you need to consider their energy footprint, from a conservation and cost angle. By adopting SMART technology and collecting data from IoT (Internet of Things devices), attractions can become more efficient.
Examples of how IoT can support a more efficient attraction include:
Using sensors to control HVAC systems to adjust heating and cooling, thus saving energy.
Identifying peak and low-demand times at each ride or exhibit with lighting controls. Doing so could reduce the energy you use by 10-90%, according to the Department of Energy.
Collecting data on equipment usage, from HVAC units to actual rides, to predict maintenance needs, ensuring better performance, greater longevity and less downtime. Disney Parks and Hitachi formed a partnership to use IoT data to build a predictive maintenance system. It aggregates data from visitors, historical maintenance and external sources like weather forecasts.
Merging SMART with Sustainable Design Practices
These SMART efficiency measures provide opportunities to reduce energy and water waste. They align well with sustainable design practices. The U.S. National Institute of Building Science defined six fundamental principles of sustainable building design to mitigate this:
Optimize site potential
Minimize non-renewable energy consumption
Use environmentally preferable products
Protect and conserve water
Enhance indoor environmental quality
Optimize operational and maintenance practices
These principles are relevant to attractions. All these spaces use power, AC, water and more, impacting the environment. The question to designers, integrators and other stakeholders is how to create captivating experiences while practicing sustainability.
The answer is to design, deploy and maintain thinking SMART. Here are some innovative ways to do this you'll want to incorporate from the start of your project.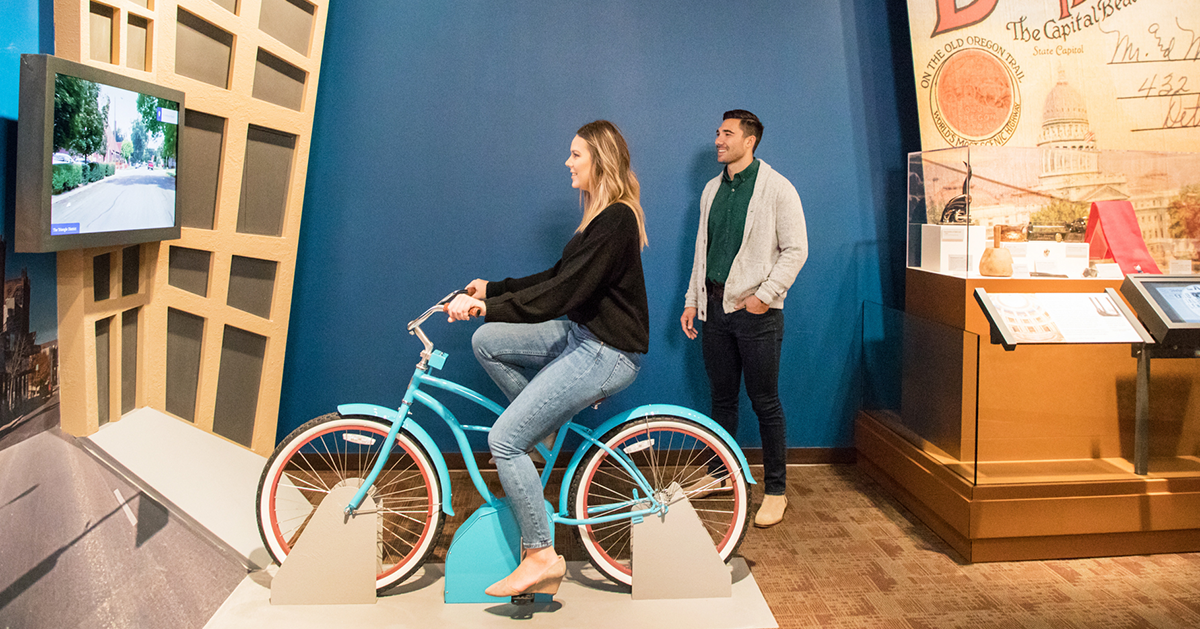 Optimizing Energy Usage
Energy usage is often the priority in moving toward sustainability. It can help a building achieve LEED (Leadership in Energy and Environmental Design). Here are critical tips for driving energy efficiency and eco-friendly audiovisual (AV) design.
Choosing the right products
The first thing to look for is ENERGY STAR certification. You can find rated AV equipment in these categories:
Soundbars
Speakers
Audio amplifiers
AV receivers
Digital screens
In addition to ENERGY STAR certification, seek out devices with auto-standby mode, amplifiers that produce less heat and using laser projectors versus standard bulbs.
Integrating automation
Automation capabilities are ideal for energy conservation. One of the best use cases is LIDAR or motion sensor technology. Lights, sound and other effects don't turn on unless there are visitors present. You could achieve significant energy savings. A report on its effectiveness found that automation controls can cut energy consumption by 29%.
Collecting data
Another way to reduce energy waste is to look at your data. You can identify peak and low times in specific venues. That could lead to more automation controls to address this fluctuation or simply turning some things off during certain times.
Improving Building Space and Material Use
This next category we've touched on already by talking about eco-friendly products. The bigger picture of space usage and making it more sustainable is eliminating elements that aren't reusable. For example, you can use touchscreen displays for wayfinding, information serving and interactivity. You can change these as needed without using printed signage.
The overall design of spaces can be sustainability-centric when you consider things like:
Integrating natural shade into areas to reduce your dependency on AC units.
Using green energy (e.g., solar, wind, etc.) to power your attractions.
Ensuring recycling containers are available throughout your venue.
Going paperless for all tickets with QR codes that scan.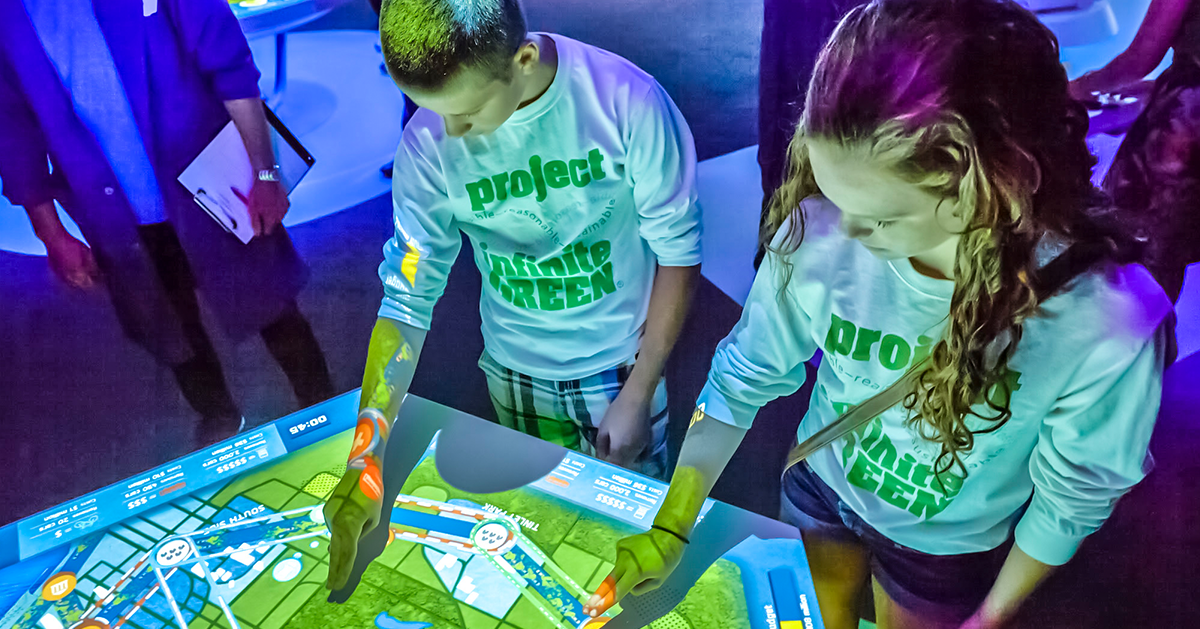 Streamlining Operational and Maintenance Practices
Next is extending sustainability to your operations and maintenance practices. Tapping a firm for managed services keeps these consistent and proactive. Constant monitoring maximizes uptime and reduces costs. It also impacts how much energy you use. As described above, IoT and other data can predict maintenance needs. That enables proactive approaches for equipment and AV technology. When everything's running optimally, you shouldn't see significant vacillations in energy usage.
Streamlining operations is equally important. To do this, you'll want to analyze the data collected, as noted above. Data serves many purposes outside of identifying when people are in the space. It can drive so many insights into the reality of how a space is operating. As your systems generate more data, you'll have the ability to make it more actionable and help you achieve sustainability goals.
SMART Attractions Can Drive Sustainability
Developing SMART attractions is quickly becoming a standard for the industry. The smarter they become, the more opportunity there is to ensure sustainability. There are ways to infuse sustainability in every phase, from the initial design to the integration to managing and maintaining. It's possible to be sustainability-centric and deliver one-of-a-kind attractions, which is a win for everyone.
Maurizio Capuzzo, Electrosonic's Chief Marketing Officer, fuses the science of data with the art of visual and verbal communication to explain how technology adds value and helps foster innovation. Maurizio writes from a wealth of experience, holding leadership roles in global technology companies as well as possessing a deep understanding of how technology contributes to business growth.
Signup for weekly Perspectives of the technologists who bring projects to life.