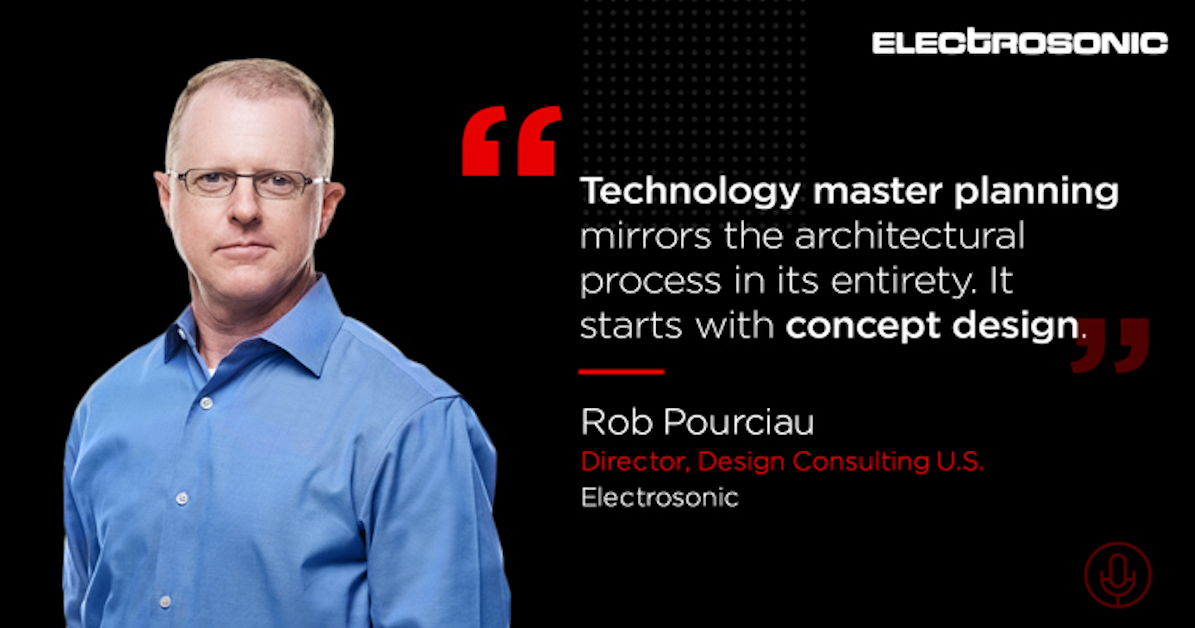 The Future of Technology In Design is Here. We Call it Technology Master Planning (New Podcast)
The digital economy has arrived. As a result, technology is no longer simply nice to have – its an expectation. However, how specifically organizations utilize technology can differ considerably.
In fact, those with a full grasp of technology's potential and the innate ability to see the big picture often surface as market leaders. In these instances, a big picture, future-focused technology deployment essentially serves as a key differentiator capable of fully immersing a guest into a meaningful experience.
Leverage over five decades of helping organizations capitalize on all technology can offer, Electrosonic has developed a process known as Technology Master PlanningTM. Rather than adding technology as an afterthought, the Electrosonic approach builds a foundation and strategy much like an architectural blueprint.
Electrosonic Director of Design Consulting Robert Pourciau recently recorded a podcast with Marketscale Pro AV's Daniel Litwin.
During this podcast, Rob discusses the how Electrosonic's proprietary approach helps clients make the most of their technology investments while saving time, money and physical resources.
Listen In to learn about:
Why now is the time for the industry to change how it views technology in design (1:41);
The inspiration behind Electrosonic's Technology Master Planning process (3:50);
The steps to developing a successful Technology Master Plan (5:04);
How having TMP benefits the professionals deploying the technology and the clients (8:07);
The ways a Technology Master Plan changes the workflow (10:07);
How the Technology Master Planning process has helped Electrosonic evolve into a consultative partner (11:25); and
The role Technology Master Planning plays in helping organizations plan for the future (13:24).
Alexander Hann, Communications Specialist, understands the challenges that clients face when they are making decisions about technology. He uses his extensive experience of communicating complex concepts to write about the latest developments in technology in a way that clearly explains benefits for business and technical decision-makers.
Signup for weekly Perspectives of the technologists who bring projects to life.