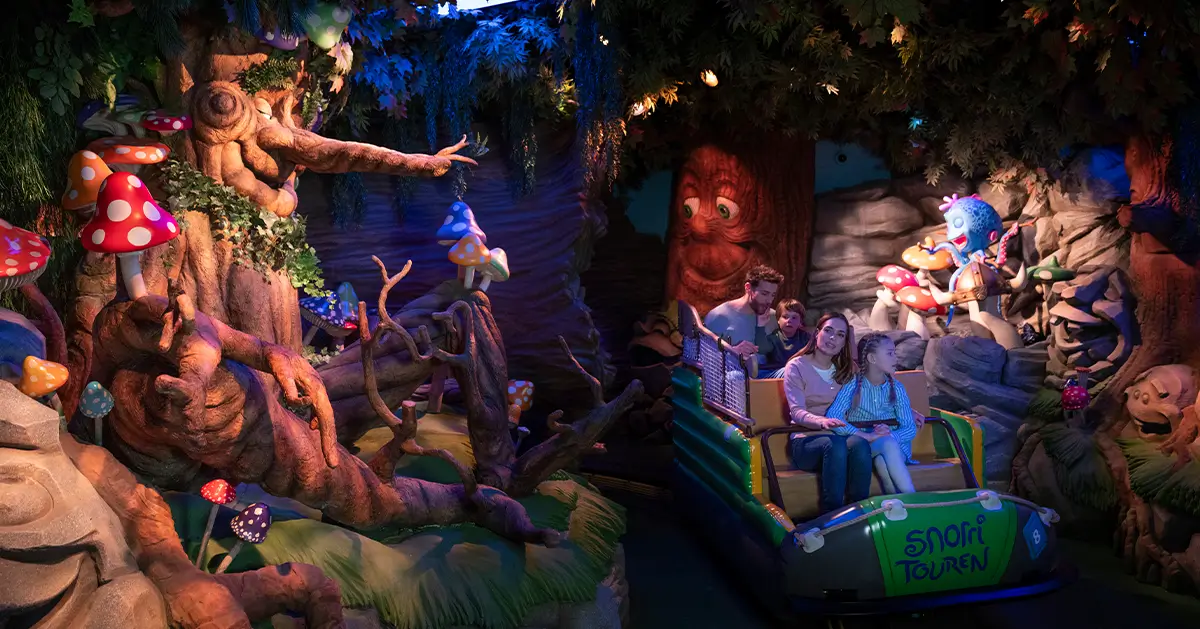 The Evolution of Immersive Ride Technology: The Past, Present and Future of the Dark Ride
The dark ride, which offers guests a unique experience and immerses them in a world much larger than the space they're actually in through the use of technology, lighting, audio and more, may seem like a relatively recent development.
However, its history stretches back further than you might expect.
The goal of the dark ride is to transport the audience somewhere fantastic. Regardless of the physical footprint of the ride, the attraction must create the illusion of greater space.
Let's explore the origins of the dark ride, how far they've come to reach the immersive and narrative experiences that they are today, and their role both in the new normal and beyond as innovations continue to shape the way they're created and enjoyed.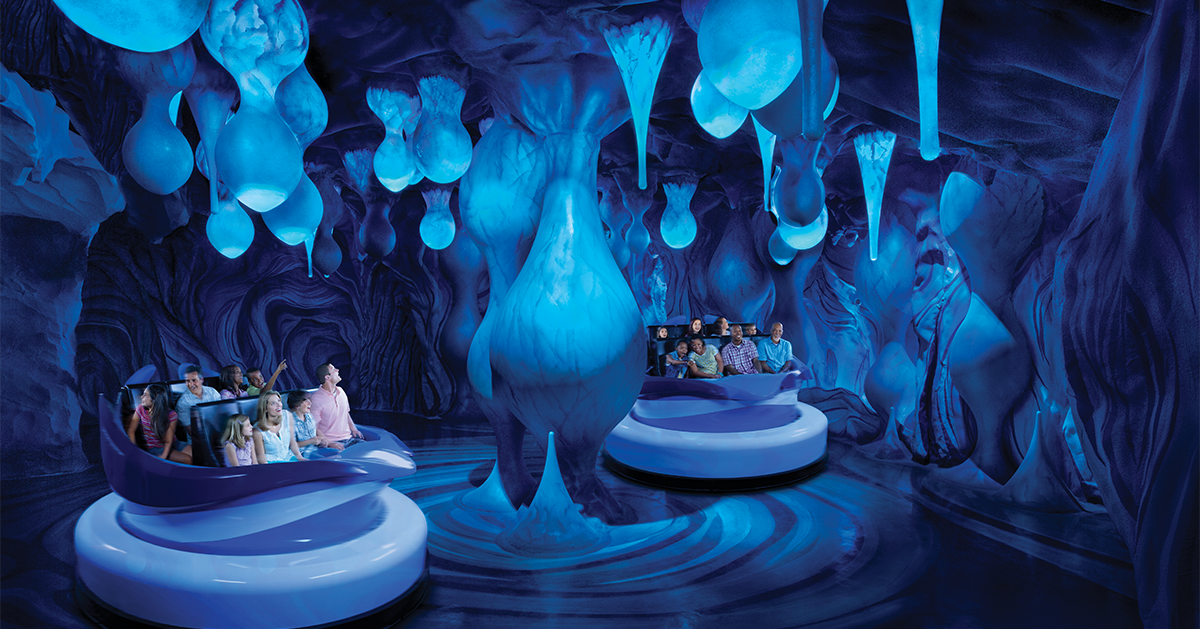 The History of the Dark Ride
The history of the dark ride doesn't begin in the past decade, or even in the past century – in fact, it stretches back to the late 1800s. Then, "scenic railways" offered a tour by rail that took riders through impressive and memorable landscapes. It wasn't just the picturesque views, however – indoor scenes complete with sound, music and special effects were also common and heightened the impact on those experiencing these tours.
From there, these experiences evolved further into "pleasure railways," which included some common tropes like tunnels of love, frightening themes and interactive narratives that continued to develop the possibilities of such experiences for guests. Boats carrying visitors through water-filled canals also began to become popular forms of early "dark rides."
Originally, the term "dark ride" sprung out of the use of blacklight scenes that lit dark spaces and showed elements that glowed under UV light. Today, the term has grown to encompass any ride that moves guests through scenes and uses technology to immerse those guests in a powerful narrative.
In America, Coney Island, New York was an early hotbed of dark ride experiences, which were leveraged for the same purpose they are today – to entertain guests, immerse them in a new, awe-inspiring world, and get them coming back for more.
A Trip to the Moon was one of the most well-known and popular examples of these early experiences. The flagship attraction of Coney Island's Luna Park, A Trip to the Moon saw visitors board a sky ship and take off, fulfilling a common fascination with flight and its possibilities by "transporting" them to a moon complete with staff dressed as lunar inhabitants and more.
Europe was also in the midst of a dark ride revolution, with "ghost trains" wowing riders as early as the 1930s. The theming of these early rides is one of the first observed traits of the predigital, or "classic," dark ride, which emerged well before the concept of the "theme park" arrived.
After World War II, there was a resurgence in interest in the theme park, and a key player at the time called The Pretzel Amusement Ride Company continued to create rides. The use of 360-degree imagery became a key example of complete immersion, with rack designs placing items outside of the front viewing position of the cart and forcing the rider to look, left, right, above and behind at all times.
In fact, six key components of classic dark rides emerged that gave them their distinctive flavor – a themed journey, 360-degree imagery, triggered sound, mediated lighting, perspectival illusion and haptic feedback.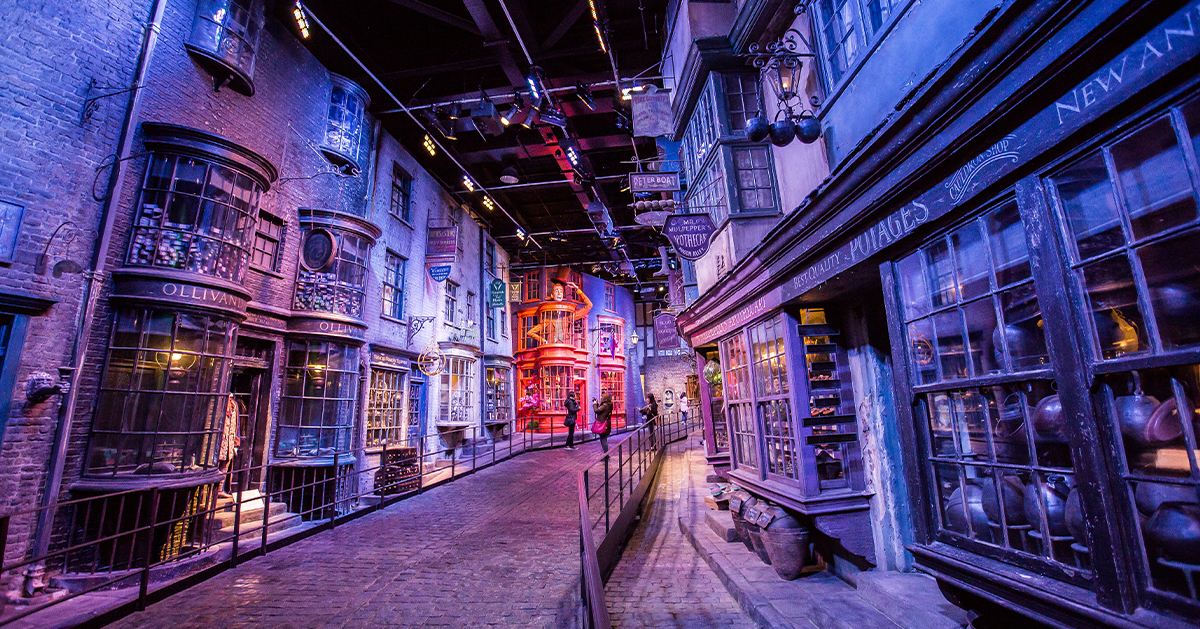 The Journey to the Impactful Dark Rides of Today
The older dark rides connect the "illusion rides" of early 20th century expositions to the "themed experiences" and "immersion rides" contemporary parks are able to deliver.
Further, over the past decade, the dark ride's ability to immerse guests, bring IPs to life in powerful ways and move riders through enhanced narratives has grown exponentially, resulting in some truly incredible experiences.
Immersive design has always been a key part of a dark ride, and it is the interaction between improved technology and the increased integration of immersive media that offers endless solutions to create new types of experiences.
But how did we get here?
In a broad sense, advancements in technology have empowered parallel advancements in dark rides. For example, Disney Imagineering, the company's research and development arm, has been granted over 300 patents and has engineered great strides in animatronics, rail systems that move guests through rides, and more.
But there were also specific advancements that propelled the dark ride forward.
Placemaking, the process of improving the overall park experience by redeveloping and reinvesting in its storytelling and the immersive experience it delivers, was one, as attractions like Expedition Everest and others developed a clear and immersive environment that was holistic in its approach as opposed to solely relying on rides, themselves to tell a story.
The importance of immersion and storytelling has increased also rollercoaster experiences like Expedition Everest, enabling a faster and more thrilling version of the original "dark ride." Throughout their history, many dark rides have been classified as roller coasters because many carts fall naturally and aren't individually powered in order to create a thrilling element during the journey. Ride technology has now advanced in such a way that the speed of a ride vehicle can be controlled, allowing for changes in speed that enable dark ride scenes to be built in as part of a rollercoaster experience.
Early screen-based motion simulators marked another key leap forward, as rides like Back to the Future: the Ride gave riders their first taste of moving through a 3D world solely through projection technology.
Harry Potter and The Forbidden Journey (2014) was also tremendously influential, as it offered an unmatched combination of a spectacular physical environment and projected digital content, which, at times, wraps around the cart to give a simulation of perspective and of being in various environments.
More vehicle technology advancements have also played a key role. Vehicles have steadily increased in terms of movement available. The Amazing Adventures of Spider-Man was indicative of a huge shift in terms of vehicle capabilities, adding multiple axes of motion and moving through practical sets complete with 3D visuals and 4D effects.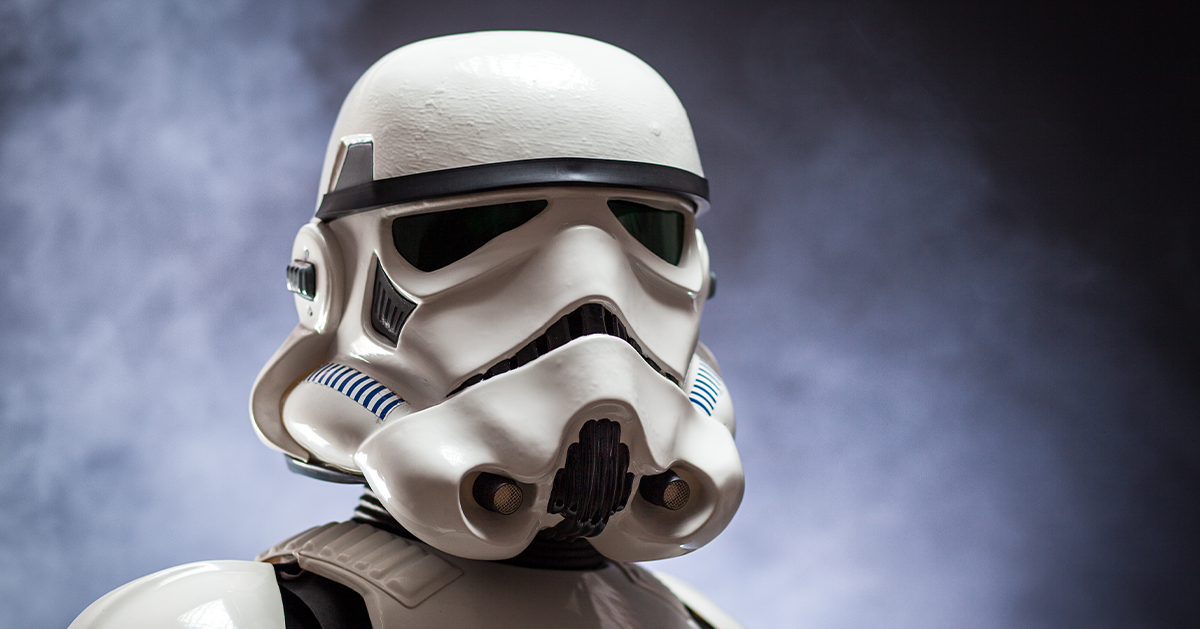 Where Is the Dark Ride Headed?
Today, dark rides are continuing to leverage incredible technological innovations to push the boundaries of what's possible and deliver increasingly impactful narrative experiences. These experiences can even take place in smaller, more confined spaces, helping make optimal use of a park's resources without sacrificing impact.
"Flying theaters" are getting in on the action, as well, offering a mix between early motion simulation attractions and cutting-edge projection solutions.
There's an almost endless list of blossoming technology innovations that are continuing to propel dark rides forward. Dome projection is allowing themed entertainment designers to create more immersion in more spaces and to offer unmatched realism, while audiovisual integration in terms of video, audio systems and more are crafting the incredible "4D" experiences that truly place guests in the world being created.
Lighting design is also playing a key role in defining how guests move through modern dark rides, and Pepper's Ghost technology can allow recognizable and interactive characters to move through rides with the guests to further boost the narrative impact. Also, themed entertainment has seen an increased implementation of VR and AR systems. VR technology is now evolving quickly, with new adaptations enabling a group experience in a digital world where journeys previously had to be enjoyed alone. An early example of this is the much acclaimed "The Void" experience.
By integrating all of these elements together and having them form a holistic approach to immersion, dark rides are helping themed entertainment meet growing guest expectations and protect parks' futures.
In the immediate future and into the continued global reopening and in a world were storytelling and theming are becoming increasingly important, dark rides will also play a key role in allowing theme parks to safely welcome and entertain guests. By their very nature, these rides allow small, isolated groups to board vehicles and be whisked away into another world, and that separation will allow parks to keep family groups together and enforce the precautions that are keeping us safe during this unprecedented time.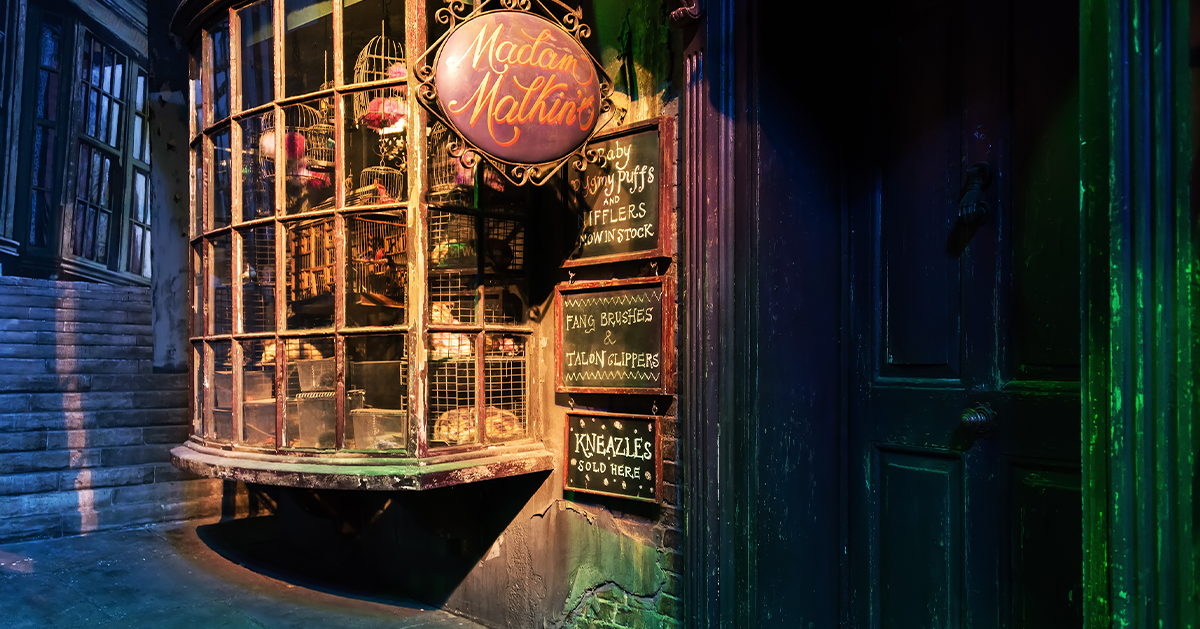 Contact Electrosonic Today
Dark rides have come a long way in more than a century of innovation, and they're ready to continue to evolve to help themed entertainment experiences and theme parks keep pace with the shifting entertainment landscape and visitor expectations.
At Electrosonic, we're ready to partner with you to craft an impactful, forward-looking dark ride that leverages a holistic AV and technology approach to deliver a memorable experience.
To learn more, contact us today.
Maurizio Capuzzo, Electrosonic's Chief Marketing Officer, fuses the science of data with the art of visual and verbal communication to explain how technology adds value and helps foster innovation. Maurizio writes from a wealth of experience, holding leadership roles in global technology companies as well as possessing a deep understanding of how technology contributes to business growth.
Signup for weekly Perspectives of the technologists who bring projects to life.