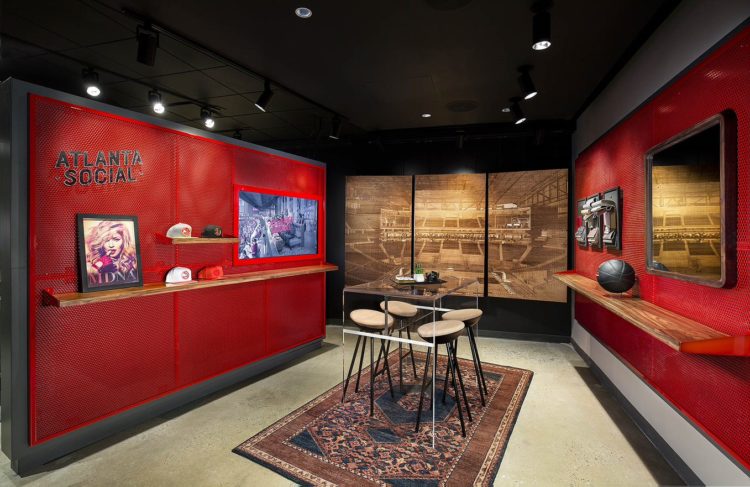 Immersive Stadiums: Outdoing Living Rooms Everywhere
Sports stadiums have a formidable rival: high-def, flat-panel TVs. After all, why pay hundreds or even thousands of dollars for a stadium seat—where you can easily miss a play or a call—when you can see and hear it loud and clear in the comfort of your own living room?
Simply put: offering a seat with a view of the playing field no longer sells tickets. In order to compete with the rise of home systems with HD, UHD, and 4K video, stadiums must up the ante when it comes to creating an entertaining atmosphere.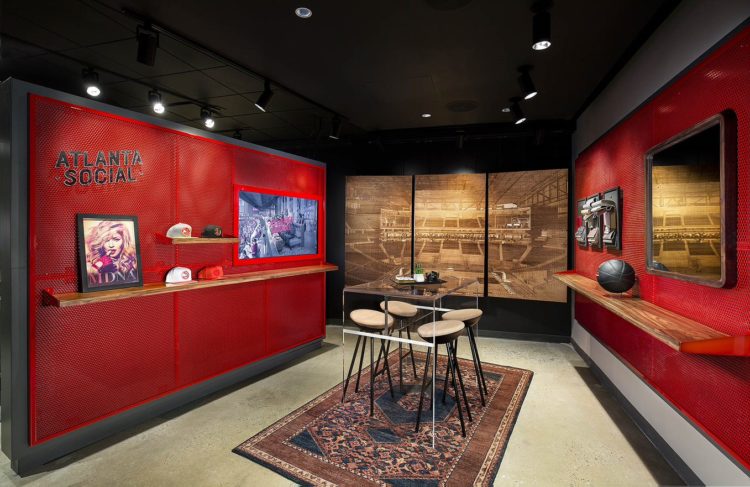 According to the Industry Outlook and Trends Report produced by the Audiovisual and Integrated Experience Association (AVIXA), venues and events are expected to produce $27.7 billion in pro-AV revenue in 2018 worldwide. That sounds like a lot—until you consider that nearly $200 million was spent to renovate a single stadium, the State Farm Arena in Atlanta.
"Stadium executives are determined to bring the wow factor to outdo other stadiums, so they are motivated to embrace advanced technologies like augmented reality, virtual reality, and interactive displays. However, their investments in standard AV technologies, such as lighting, audio, and security and surveillance, take priority," said Sean Wargo, Senior Director of Market Intelligence, AVIXA.
Nearly 100% of venue executives surveyed by AVIXA for its latest Market Opportunity Analysis Report (MOAR) plan to upgrade their audio equipment in the next 12 months. Video displays and video projection are the next most popular AV purchases.
But if the overall stadium experience is getting an upgrade, so too must suites and premium seating—and for the new State Farm Arena, the experience begins during the buying process. Electrosonic partnered with Hornall Anderson, a Seattle-based experience design company, to create an innovative journey for prospective buyers of the Arena's suites and premium seating.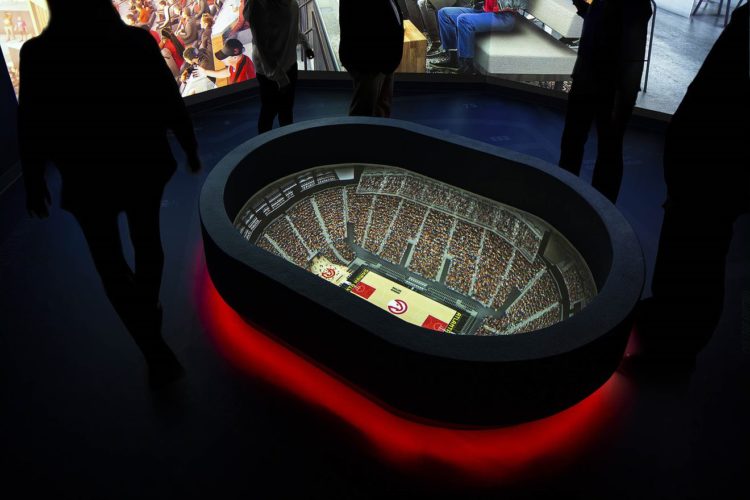 "The Atlanta Hawks Preview Center is very unique, interactive, and engaging," said Tim Garrison, Senior Creative Technologist at Hornall Anderson. "It's a real experience, not just a sales tool. It makes the VIPs feel like part of the team whose brand and personality is reflected throughout the space. The guests see how they're part of something big—these billion-dollar arenas and stadiums modify entire cities. We tell the story of how the State Farm Arena is the epicenter of a good time in Atlanta."
The Atlanta Hawks Preview Center, located at Atlanta's CNN Center, is intended to show how the State Farm Arena transcends the role of host for basketball games, concerts, and other events. When VIPs arrive in the lounge-style reception room they are greeted by a docent, who takes VIPs on a personal tour through the Center. In the Anthem Theater, a large projection wall immerses guests in a video on the evolution and rebirth of Atlanta's NBA basketball program.
Next, guests overlook a recessed Projection Pit with a projection wall backdrop showing a mix of B roll, live TV, or branded videos. Detailed video projections overlay an architectural 3D gray-scale model in the pit below the guests to show the arena's configuration for various events. Finally, guests move on to three suites, themed with different finishes, which act as closing rooms for the sales agents. Interactive displays provide information like traffic patterns, parking, and average cost per game.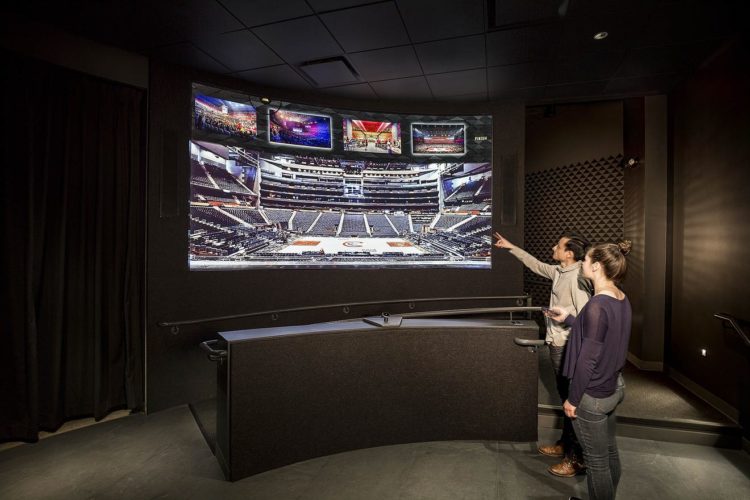 The Atlanta Hawks Preview Center immerses VIPs in an experience they can't get at home—regardless of the size of their flat-panel TV. This kind of highly immersive, engaging experience is likely to come soon to a stadium near you, as event promoters look for new ways to keep fans coming back.
Alex Westerh, Demand Generation Manager at Electrosonic, is an accomplished writer on technology in business. He has worked for market-leading companies and understands the factors that shape strategic technology investment decisions. Alex has been a lead writer on multiple projects explaining the critical role of technology in business transformation.
Signup for weekly Perspectives of the technologists who bring projects to life.