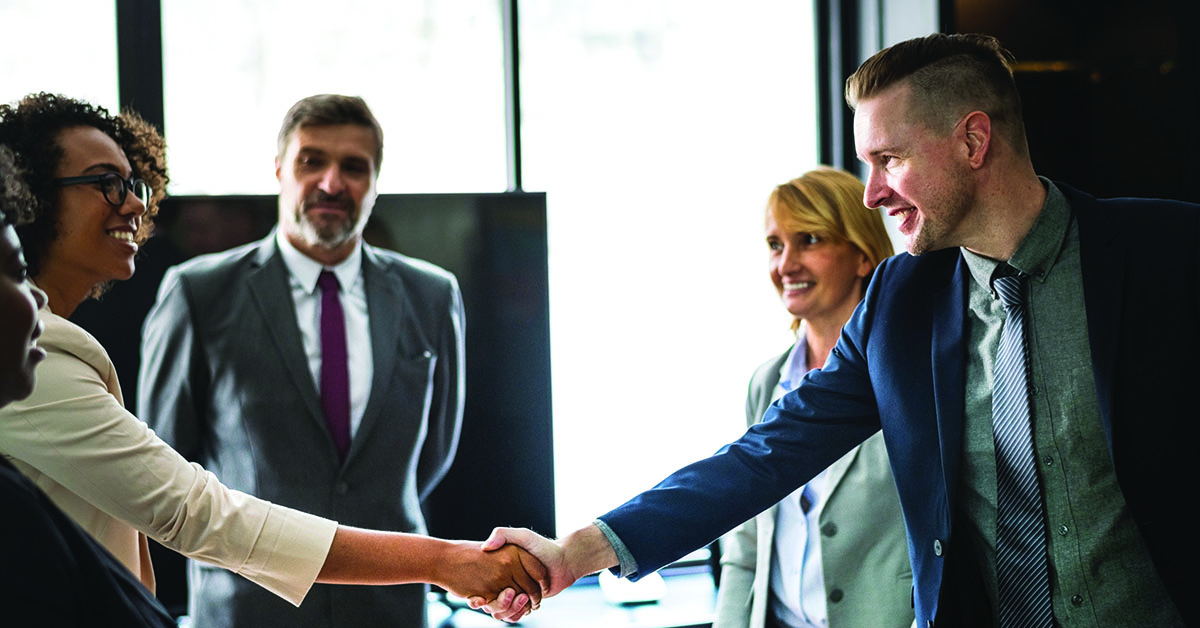 Planning to Hire an AV Company?
Exceptional projects demand an exceptional team. When engaging an audio visual (AV) solutions provider with so many companies out there… how do you choose?
From design, to procurement, commissioning and install and servicing, we've compiled a checklist of criteria to assist in your search for, and evaluation of, an AV company for your next project.
Choose a company with long and established client relationships
Choose an AV company that ensures your investment in technology is sound and protected, and one that can offer real client testimonials and evidence a range of projects.
Since 1964, Electrosonic has been designing, building and supporting innovative technology solutions to create memorable experiences where people live, work and play. We've built an impressive portfolio of projects across 60 countries with major brands that rely on us, and return to us for our technical expertise. In the last four years alone we've delivered more than 2,500+ installations globally.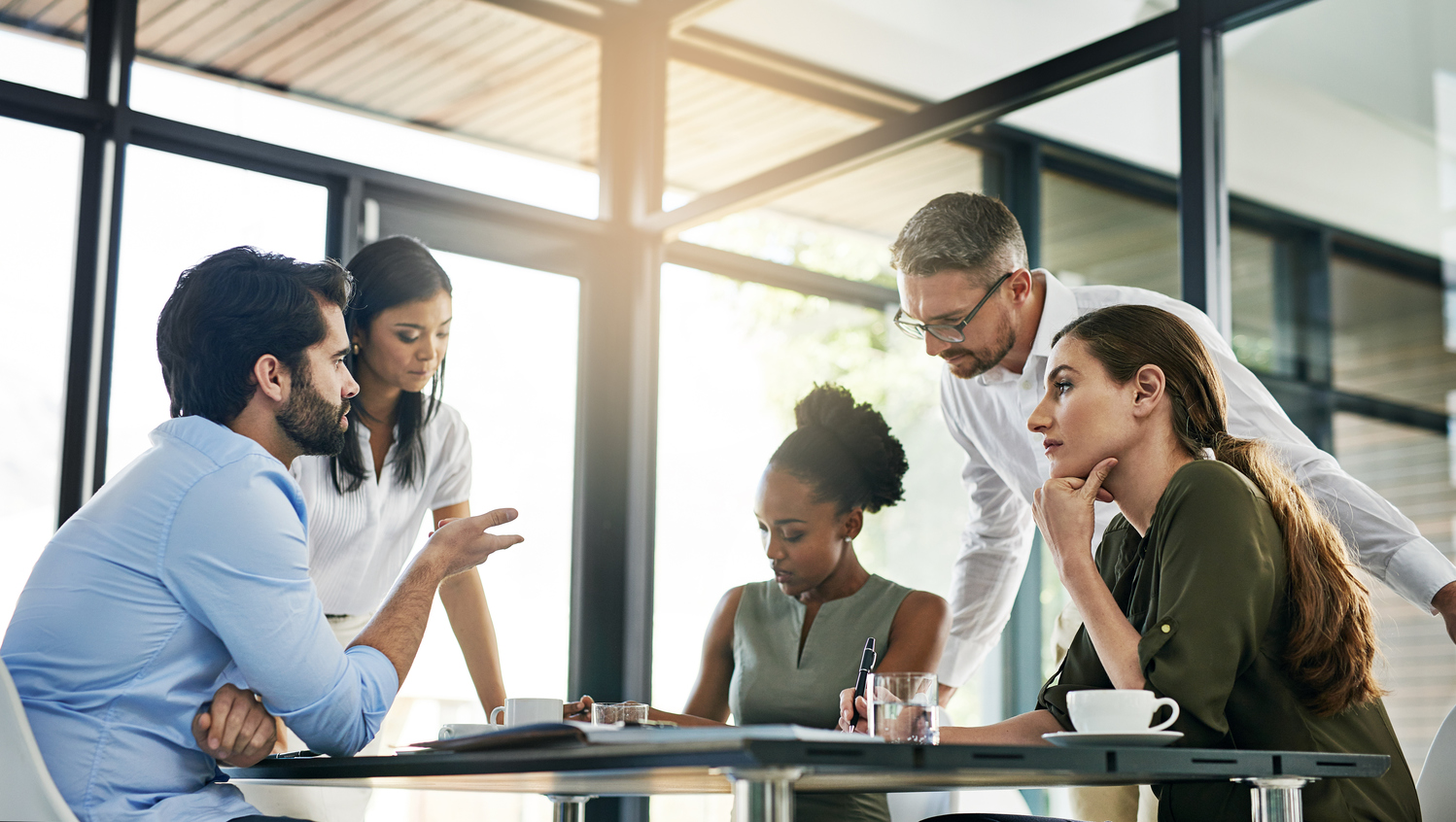 Choose a company with a solid history and heritage that's continually reinvented itself to stay at the forefront of the AV industry
Find an AV technology solutions partner that truly understand the industry, trends and best practices.
Over the years, Electrosonic has continually evolved and adapted to new technologies, changing business models – our innovation has positioned us as a world-class AV company offering design consulting, systems integration and an extensive range of managed services.
Today, our technology design consulting team creates customized and inspired solutions to meet project needs, bringing them to life with our proprietary technology master planningTM methodology.
It's essential that your chosen AV solution provider can provide the benefits of great manufacturer relationships.
We have a deep understanding of the technology landscape and our dedicated internal procurement team works hard to secure the best pricing and maintain a knowledge of the latest products. Partnerships with top brand and specialty manufacturers allow us to continually advise the best technology choices – understanding how products can best integrate with other technologies, and allowing us to provide exceptional training and support.
Choose a company with established processes, procedures and accreditations
Our ISO 9001 Quality Management System and Health and Safety certifications (CHAS, Safecontractor and British Safety Council) demonstrate our ability to consistently meet quality standards, work within a safe environment and provide customers with the high levels of customer satisfaction they expect and deserve.

Electrosonic is also qualified on a global basis as an AV Provider of Excellence (APEx) by the Audiovisual and Integrated Experience Association (AVIXA), providing assurance to customers of our professionalism and commitment to ongoing training, customer service and our dedication to excellence.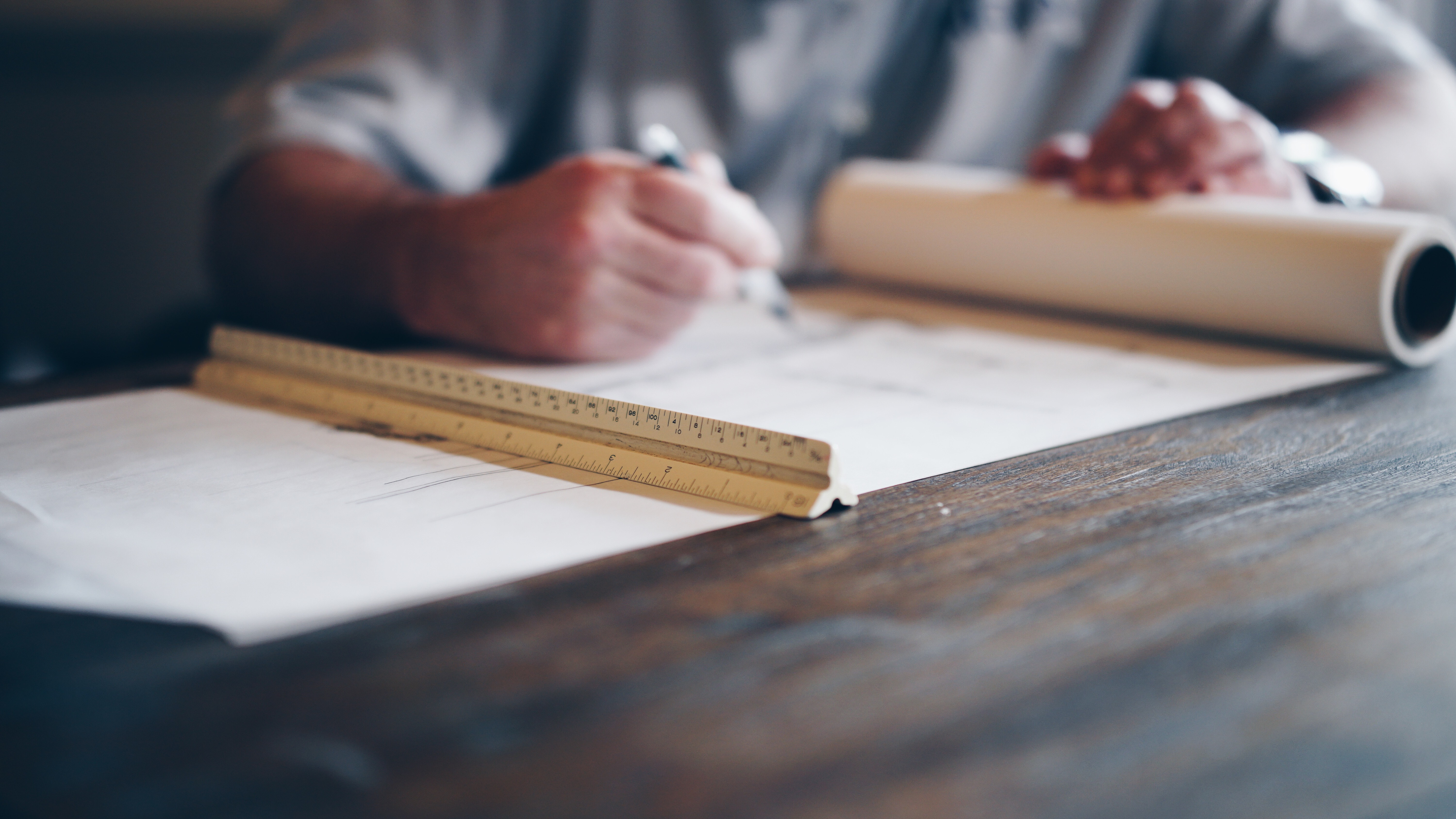 Choose a company with CTS and CTS/D qualified staff
At Electrosonic, we're recognised for our design and engineering excellence, coupled with our strong client focussed culture and prompt project delivery.
Among our global design team, we hold internationally recognised technical certifications including AVIXIA's 'The Certified Technology Specialist' (CTS) and 'The Certified Technology Specialist-Design' (CTS-D), the Building Industry Consulting Service International (BICSI) 'Registered Communications Distribution Designers' (RCDD), and the Physical Security Professional (PSP) from ASIS International.
Choose a company with vast expertise, and a wide range of services and solutions
Using complex AV technology solutions, we provide a comprehensive scope of technical and professional services to bring the wow factor to attractions. Our services include technology master planning, innovative technical solutions, audio, video and control systems, security, surveillance and access control, Information and Communications Technology and Acoustics as well as service support to maintain the performance of critical installations.
We serve clients worldwide in a range of markets including Museums & Visitor Centes, Theme Parks & Attractions, Theatre & Performing Arts, Gaming Resorts & Hospitality, Sports & Arenas, Broadcast & Media, Education, Energy & Utilities, Oil & Gas, Financial Services, Professional Business Services, Retail, Technology, Manufacturing and Transportation – this breadth of expertise gives us an deep rooted understanding of your market and the challenges you face, and allows us to support projects of all scopes and sizes.
Choose a company that can meet your needs as you grow
With a global staff of over 500 employees operating out of 16 offices in North America, Europe, Asia and the Middle East, we have the infrastructure to deliver and support any size project globally across a diverse range of sectors. Recently Electrosonic was involved in delivering audiovisual solutions at the world's largest museum in Kuwait - Sheikh Abdullah al Salem Cultural Centre, helping bring learning to life.
From technology master planning, audio visual design consulting, acoustics, audio, video and control systems to information and communications technology, security, surveillance and access control systems, our team provides unparalleled expertise and global reach, together with the skills, experience, and resources to deliver holistic and innovative Technology Design solutions.
Choose a company that can demonstrate its ability to successfully take on and deliver large scale projects
Having worked on many high-profile projects with architects and designers, including The Olympic Museum in Switzerland, Sheikh Abdullah Al Salem Cultural Centre in Kuwait City, multiple galleries within London based museums and galleries, and theme parks across the USA, we have the knowledge, skill and experience to deliver projects of any size. Some of our recent large scale project highlights include: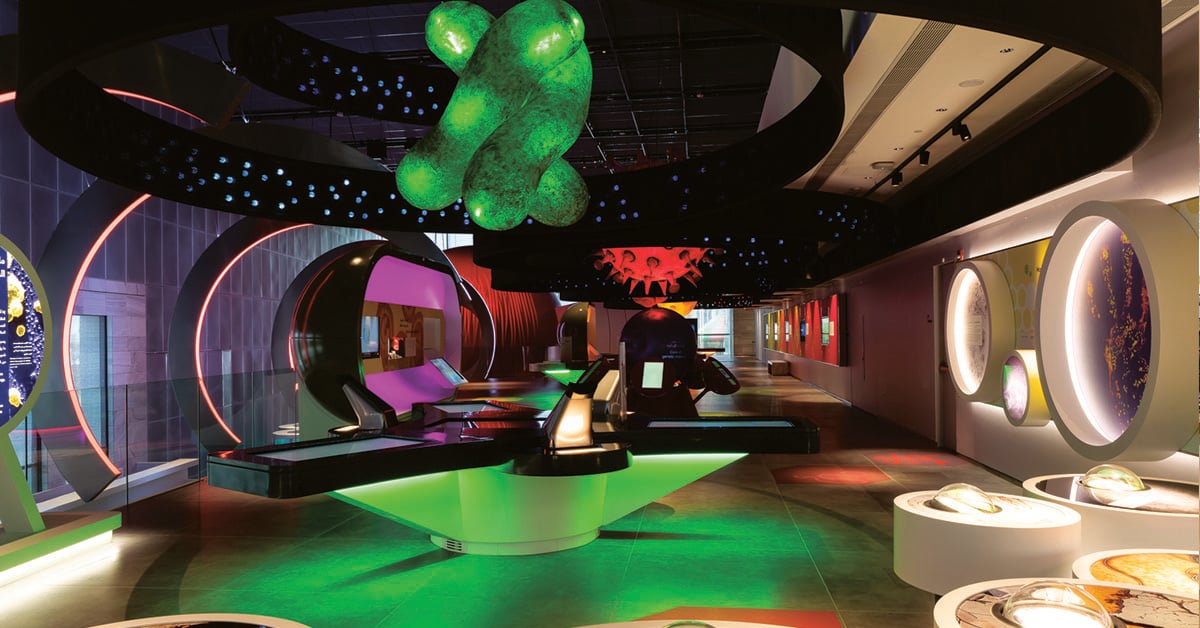 At the Sheikh Abdullah Al Salem Cultural Centre, Electrosonic installed 250 audiovisual centric exhibits and ran more than 23 miles of data cabling at the world's largest Museum complex in Kuwait.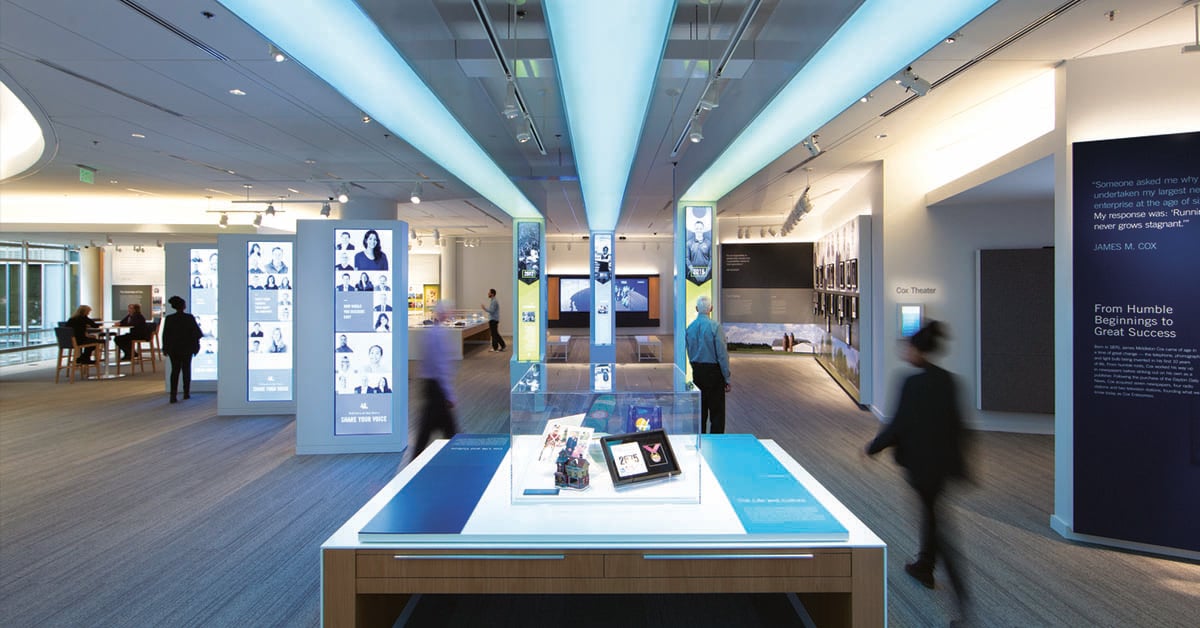 In its new Discovery Center, Cox Enterprises uses immersive technology to create a holistic and interactive environment. LED and LCD technology built into the architecture helps to tell the COX story and communicate their brand values. Dynamic content keeps visitors entertained providing a unique and personal experience.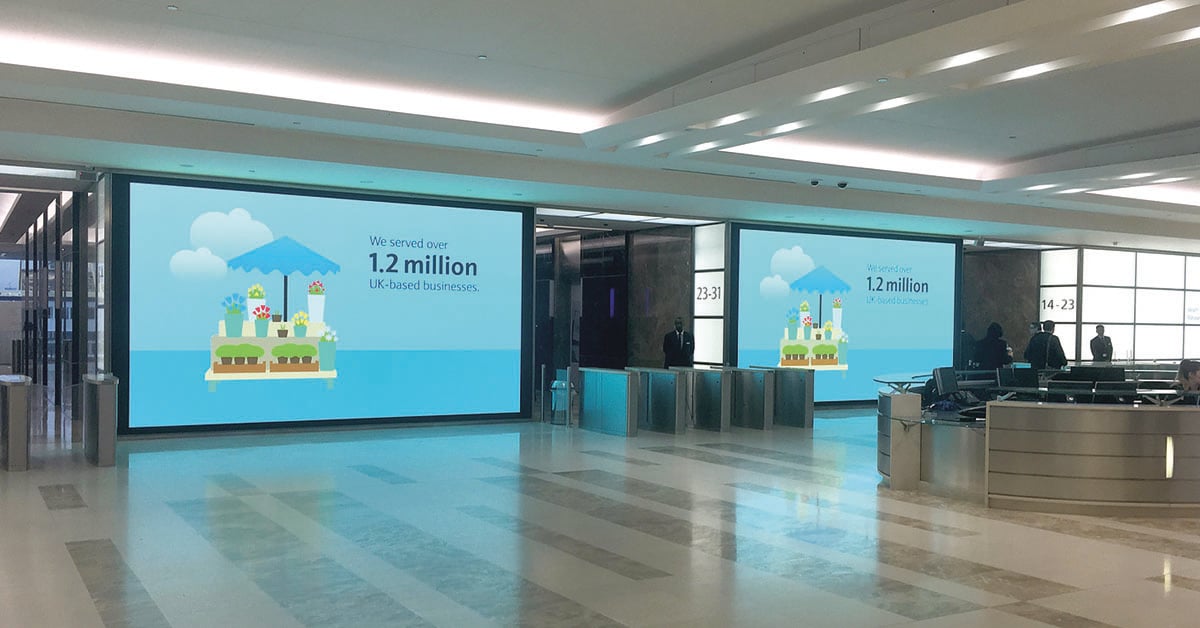 Barclays HQ in London use two large LED walls in their reception to create a WOW factor and communicate key messages, they also use this area for their 'All Hands' staff meetings. Working in close co-operation with the client's Corporate Communications and Corporate Real Estate Services teams, Electrosonic engineered and installed the two high resolution displays in the remarkably short time of eight weeks.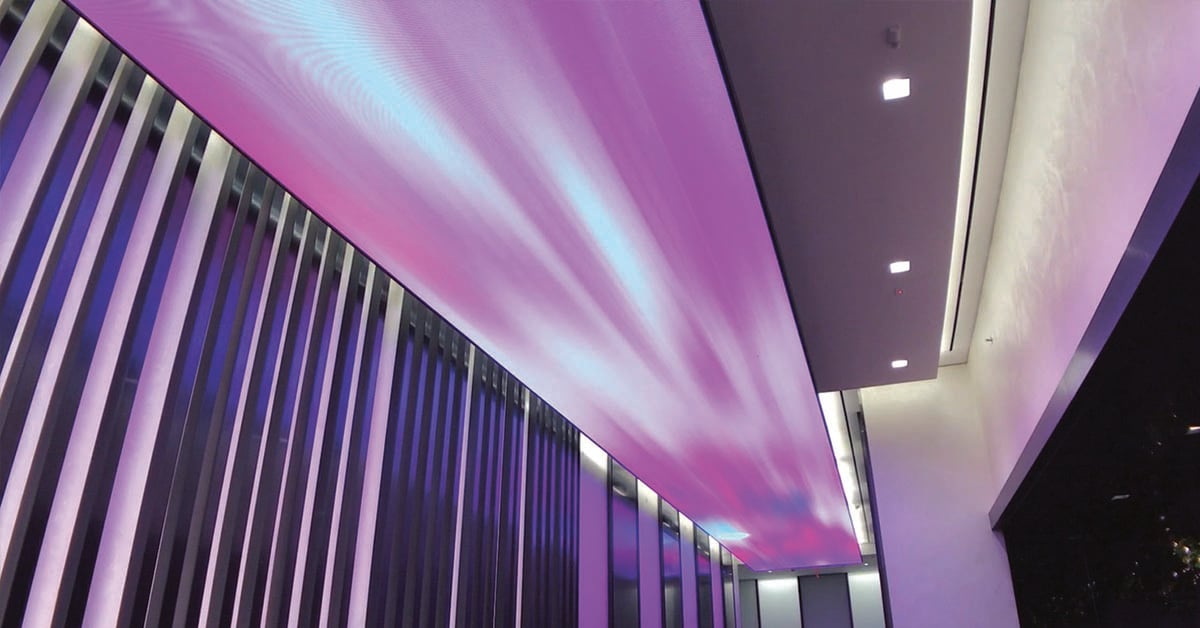 The Empire State Reality Trust transformed their lobby using a dynamic and immersive LED art installation. Using real-time data, the same image never reveals itself more than once.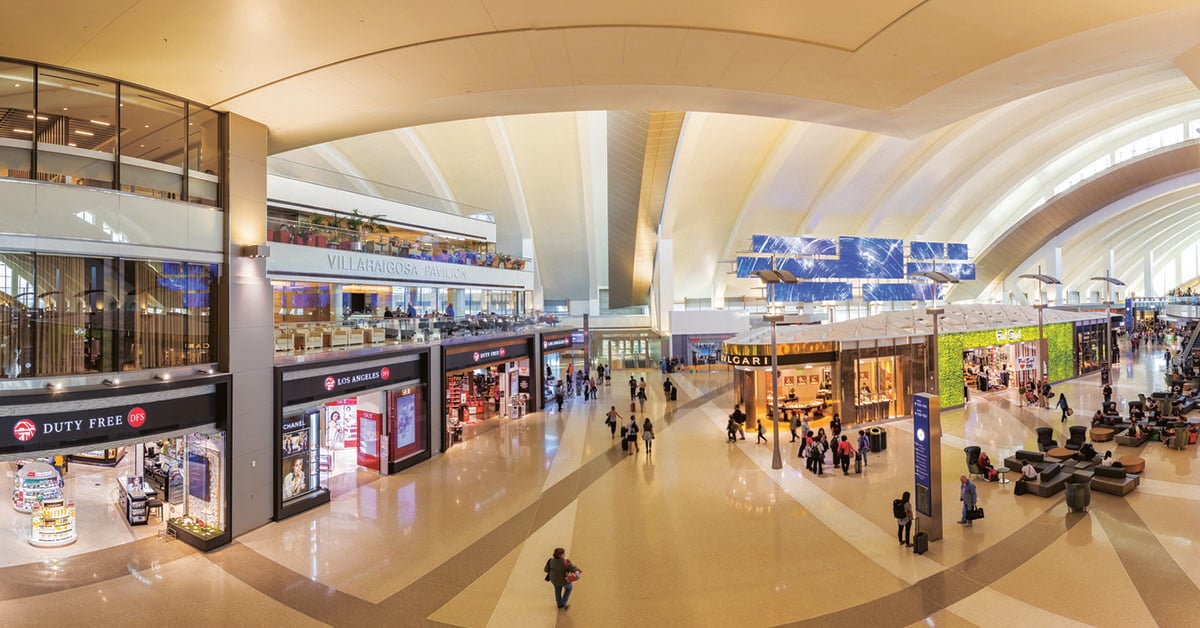 At Los Angeles International Airport (LAX), seven huge yet sustainable installations work together to provide entertainment and information as people await their flights. Electrosonic was tasked by Los Angeles World Airports with the detailed engineering and system integration of the Integrated Environmental Media System (IEMS) components and the build-out of the IEMS control room that keeps everything humming around the clock.
Choose a company that can provide customized solutions that are fit for purpose
Your needs are unique, so it's essential to find a company that can deliver a fully customized solution unique to your requirements.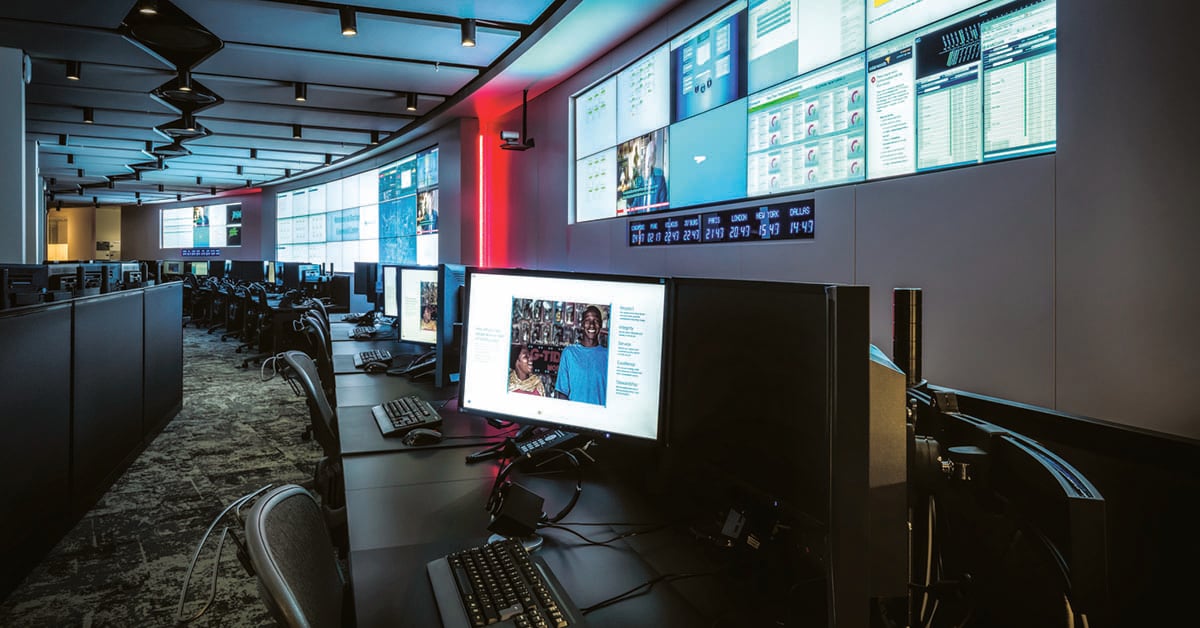 Our design consulting skills allow us to provide unique and bespoke solutions for clients. In December 2014, Electrosonic provided Barclays, a longstanding client, with one of their most complex AV installations at their 24/7 Global Command Centre in Radbroke Hall, Cheshire (UK).
Delivered in a very tight time scale of 8-12 weeks, the Centre consisted of three large media walls which are used to monitor various metrics and features video conferencing capabilities to allow teams to collaborate with their equivalent centers in India and Lithuania. Detailed AV systems design, and the complete AV systems integration and installation were carried out by Electrosonic and the final system gave Barclays the utmost functionality, reliability and value for money through detailed design, bespoke programming and innovative use of technology.
Knowledge and first-hand, real-life project experiences translates into cost and time savings. Our experts understand what will work, and what won't, we understand the facility impact AV technology can have on a building and other essential building systems. We understand how different building and interior design materials can impact sound and comfortable viewing. Our technology design consultants will always advise on the best possible solution to ensure your audiovisual solution delivers maximum results.
Choose a company with advanced CAD and BIM capability
Building Information Modelling (BIM) is a collaborative process used to create, manage and distribute drawings and information relating to an installation that produces high quality 3D rendering of project concepts and visions, among other outputs.
Whenever a project exists as a BIM model, we can design, collaborate and exchange data using the same processes as all other parties, providing the time and cost saving benefits that you expect from the BIM environment.
Since BIM supports a totally coordinated design and development process across all disciplines – architectural, electrical, mechanical and structural engineers, fabricators and owners all contribute to and have access to the latest information in the model. When everyone involved in a project is using the BIM process it's possible to greatly reduce the number of errors and omissions in a design at the earliest stage, saving time and cost on discussions and rework that can be common in multi-contractor projects. The process can also reduce risks of cost overruns, delayed project completion and incompatibility between hardware systems.
Electrosonic has a dedicated global BIM team who has worked on many high profile projects including the largest indoor theme park in the world, located in the Middle East.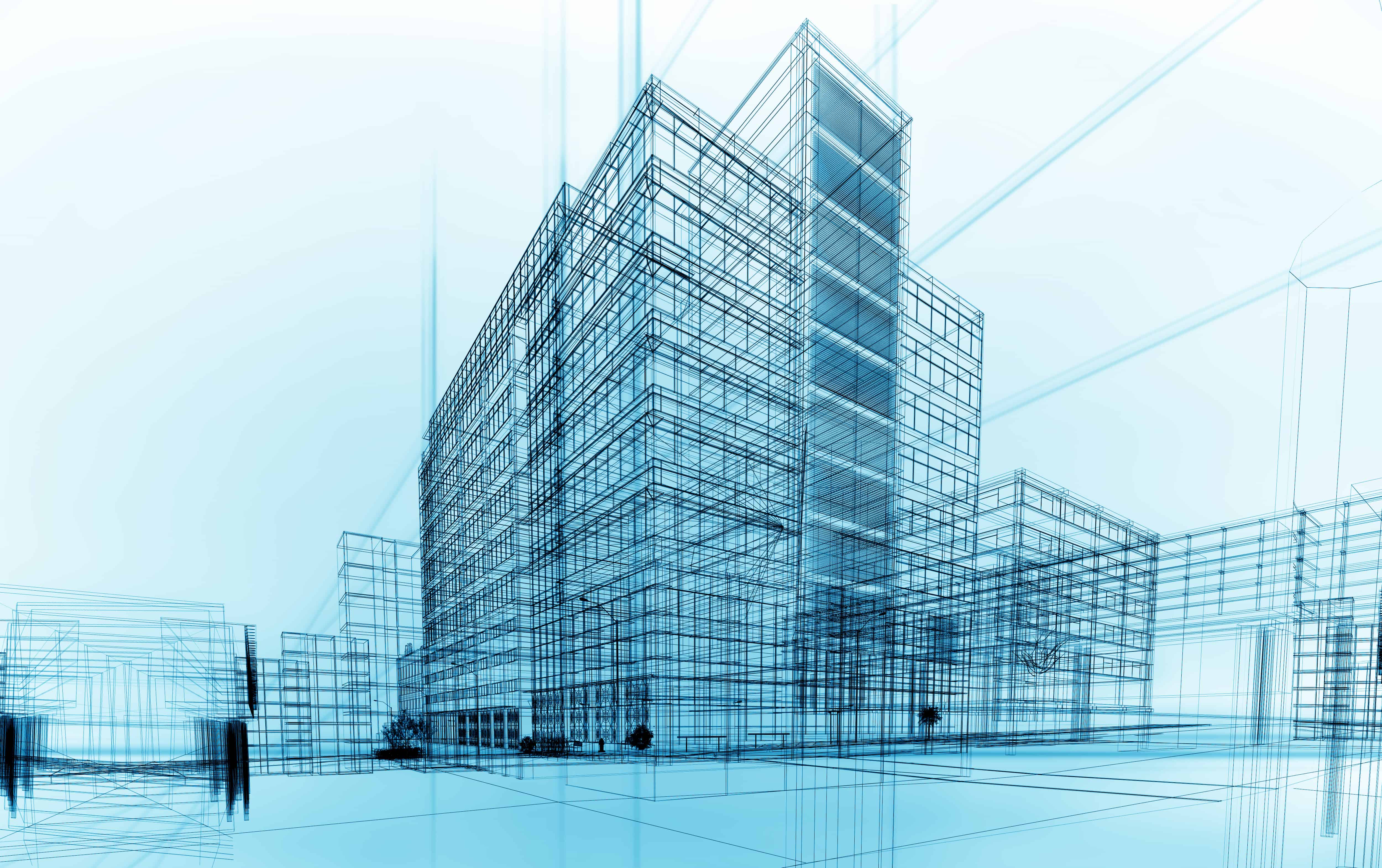 Choose a company experienced in working with other contractors
Key to the smooth running of projects is the collaboration and communication among contractors. On the majority of projects, we work alongside a broad mix of contractors from main contractors and designers to architects, construction teams and content and media producers.
It's important to bring an AV Consultant into the project as early as possible to ensure AV design isn't forgotten and to avoid costly changes or delays further down the line. This is especially true for the early stages of larger, more complex projects and new construction.
Choose a company with service solutions to keep your technology investment up and running
Complex AV systems require a hands-on service strategy, especially so when there are critical operations on-site.
Support and servicing shouldn't end once the installation is complete. We provide a variety of services that maintain and scale investments for the future. Our dedicated Managed Services team has the expertise to support all projects post installation ensuring your solution is always protected.
Managing an intricate AV system can be a drain on an organization's precious time, budget and resources when handled in-house. Electrosonic can remove the strain by offering a constant on-site service, supported by our Service Operations Centre and support team. Whether it's embedding a single technology specialist or a large team of technicians, we can adapt to the complexity and scale of your system's requirements. As part of our on-site support we conduct routine maintenance to maximize up-time, perform manufacturer recommended service and cleaning as well as undertake repairs when required. Performing routine maintenance is required by manufacturers and ensures your system continues to run seamlessly.
Searching for the right AV partner needn't be an arduous task, but selecting the most qualified and experienced audiovisual solutions provider is one of the building blocks for project excellence. At Electrosonic, we will always share your passion and vision to bring your projects to life.
Morgan Rottinghaus, Vice President, Strategic Partners at Electrosonic, recognizes the critical role that partners play in delivering added value to clients. She writes about the importance of connecting complementary value-added services through partnerships as a way of accelerating innovation and maximizing the benefits of technology investments.
Signup for weekly Perspectives of the technologists who bring projects to life.